The latest editions of
Masonry Designers' Guide
and
Standards for Architectural Cast Stone
are now available!
---
Bundle MDG-2022 with TMS 402/602-22
and receive $25 off your order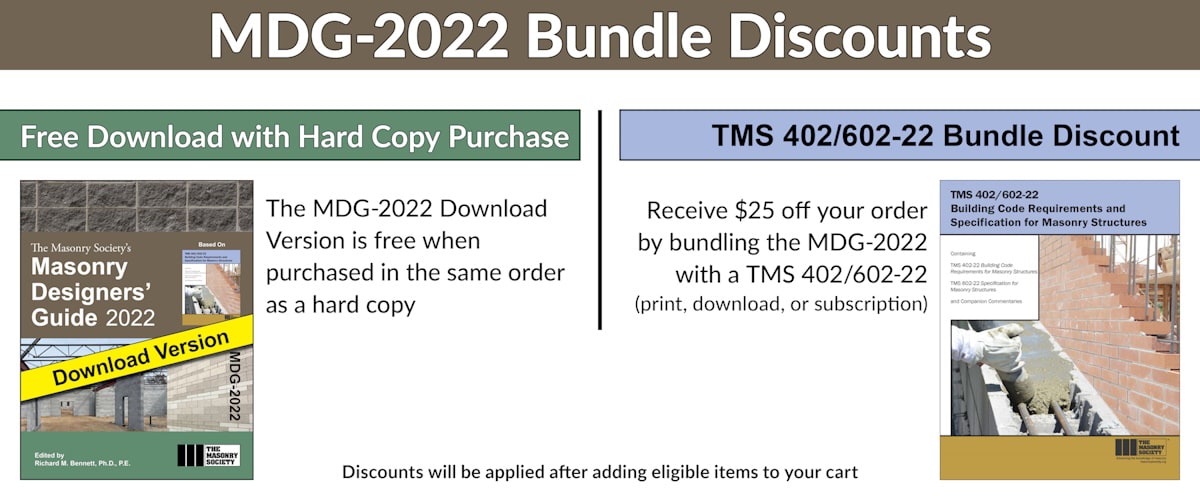 Masonry Designers' Guide – 2022
The Masonry Designers' Guide – 2022 is a valuable reference for engineers, contractors, architects, inspectors, building code authorities, and educators.
MDG-2022 includes more than 150 design examples on topics such as:
Concrete and clay masonry
Autoclaved Aerated Concrete (AAC) masonry
Prestressed masonry
Glass unit masonry
Veneer
Allowable stress design
Strength design
60+ comprehensive design examples for three common masonry buildings (Chapters 19-21)
Key design checks for isolated elements:

partition walls
loadbearing walls
shear walls
anchor bolts
and more

Brand new examples for

GFRP reinforced masonry
veneer
anchor bolts
The MDG-2022 also includes discussion on masonry provisions in the 2024 International Building Code (IBC) and its examples are based on ASCE /SEI 7-22.
Standards for Architectural Cast Stone, 2023 Edition
Standards for Architectural Cast Stone contains three standards and their commentaries:
Standard for Design of Architectural Cast Stone (TMS 404)
Standard for Fabrication of Architectural Cast Stone (TMS 504)
Standard Specification for Installation of Architectural Cast Stone (TMS 604)
Key updates and revisions incorporated by the Committee in the 2023 edition include:
Updates for coordination with other reference standards including updates to reflect changes in ASTM standards and reference to the 2022 edition of ASCE/SEI 7.
General cleanup and clarification of provisions and expanded commentary.
Introduced new deflection limits of l/600 for cast stone subjected to out-of-plane loads.
Removed the historical drying shrinkage limit of 0.000325, replaced by a requirement that drying shrinkage be tested and reported.
Minimum thickness requirement of 2.5 inches (64 mm) for all cast stone units.
Permitting the use of glass fiber reinforced polymer bars meeting ASTM D7957/C7957M.
Minimum qualifications for testing labs and inspection agencies are required to be defined.