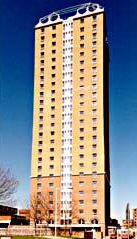 The Masonry Society's 1999 Haller Award was present to Whitby Bird and Partners, Structural Engineers in London, England for their unique creativity in the restoration of Winterton House at Watney Market in London's East End. Clayford T. Grimm, Chairman of the Haller Award Committee, presented the Award on behalf of TMS at the 8th North American Masonry Conference Banquet.
Grimm described Winterton House as a 25-story building that was constructed in the 1960's. and which needed considerable repairs. Upon evaluation of the building, it was determined that only the structural steel frame could be salvaged, and even it needed enhancing to support the loads required by modern building codes. Faced with refacing the building, the architects and engineers decided to provide solid brick masonry exterior, not just a veneer. Their solution entailed stripping the building completely down to the steel frame and surrounding it with a free standing load-bearing brick wall. The only connection between the wall and frame occurs at floor level where sliding ties are dovetailed into the concrete floor as the brickwork proceeds. A steel frame on the roof was used to pre-stress the masonry by jacking in some 1,124,000 lb. The upper steel columns were placed in tension to provide extra load carrying capacity for the floors. Tension rods to steel columns transfers loads of up to 112, 400 lb to each column.
One million perforated wire-cut bricks of medium strength were used on the project, which was constructed on time and at budget. Because of simple detailing by the design team, only eight bricklayers were employed on the project. The straightforward detailing facilitated high quality workmanship for the masonry without self-angles.
H.W.H. West of the British Masonry Society accepted the award on behalf of Whitby Bird and Partners since representatives of their company were unable to attend the conference. He noted that Mr. Mike Hitchens, a spokesman for Whitby Bird and Partners, felt that the project "was a rare opportunity to develop and exploit a radical new cost-effective idea based on the compatibility of steel and masonry. Made possible by the ease of construction of simple masonry with inherent low maintenance and durability, it continues as a living test bed to gather data to enable others to use the same concepts more easily."