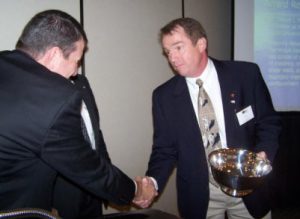 Dr. David I. McLean, Department Chair at Washington State University was awarded the John B. Scalzi Research Award at TMS's Annual Meeting on October 18th. Dr. Max L. Porter, chair of TMS's Research Committee, presented the award on behalf of the committee. During the presentation of the award, Porter noted that McLean, who is also a registered Professional Engineer, has been involved in masonry activities for over 20 years in education, research and consulting functions. McLean has conducted over $1 million in research on approximately 50 projects. His publications include 44 refereed publications, 14 refereed conference papers, 33 other conference papers and a significant number of invited presentations. McLean has supervised 44 graduate students, many of who have conducted masonry research, some winning past TMS Thesis Awards (see below for the latest).
McLean has chaired more than 10 university committees and worked on over 23 consulting projects.  He has participated in over 13 professional organizations, including ABET evaluations and as a FEMA trained inspector for post-earthquake evaluations.
Within TMS, McLean has served on numerous committees, is past chairman of TMS's Research Committee, past Chair of the MSJC Reinforcement and Connectors Subcommittee, past member of TMS's Board of Directors, and currently serves as MSJC Vice Chair and as a member of TMS's Technical Activities Committee. For his many accomplishments and for his support of TMS, he was made a TMS Fellow Member in 2006.
McLean has received several previous awards, including the ASTM Yorkdale Award for Outstanding Paper, and several outstanding teaching awards.