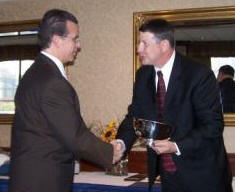 On behalf of The Masonry Society's Research Committee, Dr. Max L. Porter presented the 2007 John B. Scalzi Research Award at the Awards Luncheon in Pittsburgh, PA on November 10, 2007 to Dr. Arturo E. Schultz, of the  University of Minnesota for his outstanding contributions to masonry research. Porter noted that Dr. Schultz has dedicated a substantial portion of his career to advancing the science and practice of structural engineering especially as related to masonry.
Dr. Schultz received his Ph.D. degree from the University of Illinois.  He is a Professor at the University of Minnesota where he teaches a graduate and an elective course in masonry design.  He has taught several seminars on prestressed masonry, the Masonry Designers' Guide, masonry design by the IBC and applications of masonry materials.   Schultz previously worked at NIST where he has performed a significant amount of masonry research on shear walls.  Dr. Schultz's primary masonry research areas are prestressed masonry, shear walls, and slender members. He has also supervised several Ph.D. and Masters students on masonry research.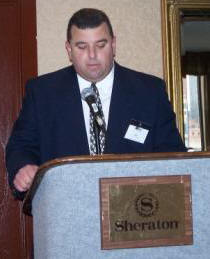 Dr. Schultz has served on the TMS Board of Directors and as Leader of the TMS Disaster Investigations Team.  He has organized five teams to conduct investigations in disaster areas.  He has served as an Associate Editor of the TMS Journal.  He has also chaired the ASCE structures division Administrative Committee on Concrete and Masonry Structures.  He has more than 32 refereed papers on masonry research, including the following topics: vertically compressed slender URM walls, slender post-tensioned masonry walls, analytical solutions for axially loaded walls, and stability of slender masonry structures.
During the presentation of the Award, Porter noted that Dr. Schultz had won three outstanding paper awards at the 10NAMC, including a paper on finite element modeling of post-tensioned masonry, and a TMS Journal paper award on stability of masonry walls and segmental block walls.
Dr. Schultz has recently been named the new chair of the Reinforcement & Connectors Subcommittee of the 2011 MSJC, and will be serving on the 2011 MSJC Executive Committee.