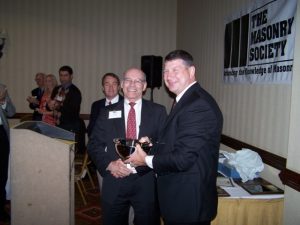 On behalf of The Masonry Society's (TMS) Research Committee, David I. McLean presented the 2006 John B. Scalzi Research Award at TMS's Awards Luncheon on October 14, 2006 to Dr. Max L. Porter, of Iowa State University for his outstanding contributions to masonry research. McLean noted that Dr. Porter's, has dedicated a substantial portion of his career to advancing the science and practice of structural engineering. Porter conducts and presents engineering research and professional activities that have substantially changed workplace practices and advanced the teaching of structural engineering. He has chaired several national committees charged with revising structural engineering codes and standards in masonry and composite floor slabs. Under his leadership, 12 national standards for building codes have been produced.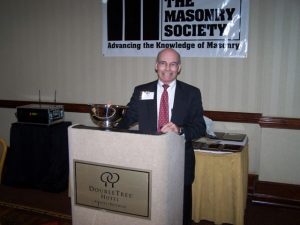 Porter has served as PI or Co-PI on 120 research projects with funding of $10 million.  He has authored or co-authored 113 refereed publications, including 26 standards books or book chapters, and 218 non-refereed publications. In addition, he has taught 203 formal courses, mostly about reinforced concrete design, masonry and timber design, capstone engineering, and structural engineering.  Areas of noteworthy masonry research contributions include the performance of joint reinforcement, the design of masonry connectors and ties, and the seismic response of masonry structures.
Porter is an Honorary Member of the American Society of Civil Engineers (ASCE), he served two years as the President of the Structural Engineering Institute, including during the "9/11" events, for which he was involved in appointing the investigation teams and the report approval process for the World Trade Center and Pentagon structural damage investigations. Porter is a Fellow of The Masonry Society and recent past President. long history of consistent and productive research on a variety of topics related to masonry and has written many books and hundreds of papers on its behavior.