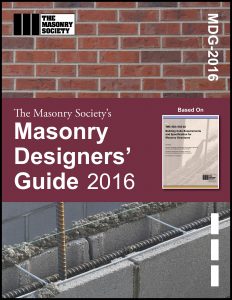 The 9th Edition of the Masonry Designers' Guide is now available for purchase. The latest edition, designated as the MDG-2016, has been completely updated to provisions in the 2016 TMS 402 and TMS 602.
Numerous additions and changes include a new chapter on Reinforcement and Connectors, discussion and examples on new TMS 402-16 provisions, information related to masonry design requirements in the 2018 International Building Code (IBC), and updates related to new loading requirements in ASCE 7-16.
---
The MDG-2016 is an excellent resource for designers as well as students learning about masonry because it:
was developed by dozens of masonry experts who are familiar both with masonry design and with the Code requirements governing masonry's use
includes over 110 practical examples of typical masonry buildings and components
provides practical tips on how to quickly and efficiently design typical masonry
includes drawings and photographs to illustrate concepts and procedures discussed
---
The MDG-2016 is available in print and electronic format and can also be bundled with the 2016 TMS 402/602 for additional savings.
*Print copies of the MDG-2016 include a registration card that can be used to redeem access to the digital version.