---
TMS 404/504/604 Closure and Response to Public Comments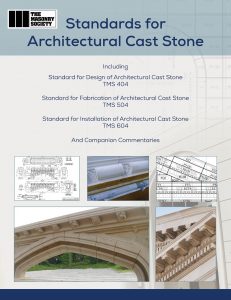 The Technical Activities Committee (TAC) of The Masonry Society (TMS) recently approved the Closure Statement and Response to Public Comments that are shown below for Standards for Architectural Cast Stone (TMS 404/504/604) and they recommended publication by TMS. Based on TAC's recommendation, the Board of Directors is considering approval of the standards.
In accordance with TMS Rules, the Closure Statement is made available to the public for review. Anyone may comment on revisions made as a result of the initial public comment period. To do so, submit a comment here by July 21, 2023. Comments received from this second public comment period will be considered during the next revision cycle.
The following file contain the Public Comment Table with Committee-approved Responses, the Working Draft of Committee-approved Changes that was submitted for Public Comment (Use this version when referencing the specific page, line, and section numbers in the Comments from the Public), a second Working Draft of Committee-approved Changes as a result of Public Comments, as well as Committee Ballots and Meeting Minutes that dealt with consideration of the Public Comments.