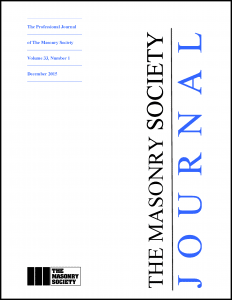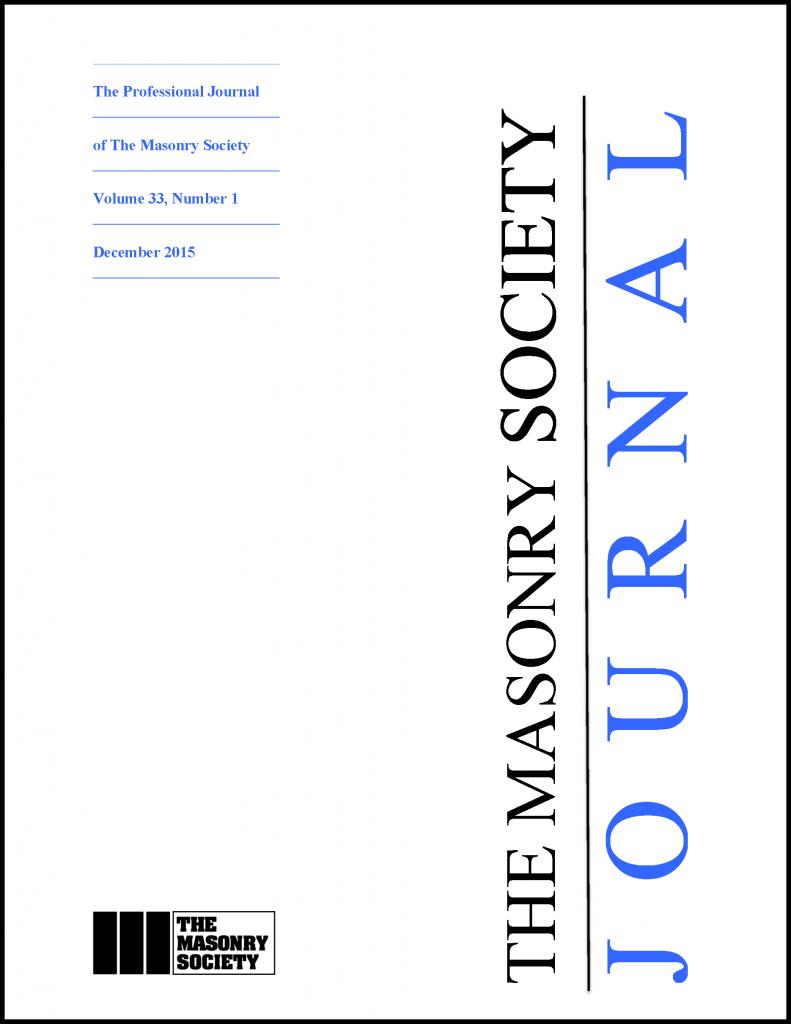 Since the 5th North American Masonry Conference in 1990, awards have been presented to recognize outstanding papers published in TMS Journal.
TMS Members can download electronic versions of the latest TMS Journal and back issues for free through the eStore as part of their membership benefits.
If you are interested in learning more about TMS Journal or would like to submit a paper for consideration, please contact the TMS office.
---
Recipient Summary
Journal Papers receiving awards at 13th North American Masonry Conference (2019)
Outstanding Technical Papers

"Analysis of Field-Measured Reversible Deformations in Masonry Cavity Walls"​, by A. J. Lohonyai, Yassar Korany, and N. Trovato,​ Published in Vol. 33, No. 1​
"Shear and Tensile Strength Equations for Analysis of Grouted Masonry", by Laura Redmond, Lawrence Kahn, and Reginald DesRoches​, published in Vol. 34, No. 1
Outstanding General Interest Paper

"Anchor Bolt Design Provisions in the TMS 402-16 Code, by Richard M. Bennett​, published in Vol. 35, No. 1​
Journal Papers receiving awards at 12th North American Masonry Conference (2015)
"In-Plane Behavior and Influence of Mortar Formulation in the Strength of Fully-Grouted Reinforced Masonry Shear" by Ehsan Minaie, Micheael Mota, Franklin L. Moon, and Ahmad  A. Hamid
"Interface Shear Transfer Between Grout and AAC Masonry" by Richard E. Klingner, Monica Puglisi, and Miguel Forero Henao
"In-Plane Loading of Brick Veneer over Wood Shear Walls" by Elias A. Toubia and James M. Lint
"FRCM-Strengthened CMU Masonry Walls Subjected to Out-of-Plane Load" by Saman Babaeidarabad, Giovanni Loreto, Diana Arboleda, and Antonio Nanni
Honorable Mention
"MSJC Deep Beam Requirements" by Fernando Fonseca, Sunup Mathew, and Dick Bennett
"Concepts of Shear Friction Applied to Masonry Shear Walls" by Richard M. Bennett and Shane C. Morrison
---
Journal Papers receiving awards at 11th North American Masonry Conference
"Out-of-Plane Flexural Strength of Unreinforced Clay Brick Masonry Walls" by M.C. Griffith and J. Vaculi
"Effect of Moisture on FRP-Masonry Bond Strength" by D. D. Stierwalt and H. R. Hamilton III
"In-Plane Seismic Response of Reinforced Concrete Masonry Shrinkage Control Joints" by Jason Ingham, Gavin Wight, and KC Voon
"Performance of Lap Splices in Concrete Masonry Shear Walls" by Jon. Z. Mjelde, David I. McLean, Jason J. Thompson, and W. Mark McGinley
---
Journal Papers receiving awards at 10th North American Masonry Conference
"Structural Behavior of Tie Connections for Residential Brick Veneer Construction," by James M. LaFave and Dziugas Reneckis
"Design Considerations for Stability of Transversely-Loaded URM Walls," by A. E. Schultz and J. G. Mueffelman
"In-Plane Strengthening of URM Infill Wall Assemblages Using GFRP Laminates," by Wael W. El-Dakhakhni, Ahmad A. Hamid, and Mohamed Elgaaly
"Effective Pier Model for the Nonlinear In-Plane Analysis of Individual URM Piers," by Lawrence F. Kahn, R. T. Leon, Franklin L. Moon, and Tianyi Yi
Honorable Mention
"Elastic Stability Of URM Walls Under Transverse Loading," by J. G. Mueffelman and A. E. Schultz
"Shear Behavior of UCMW using CFRP Sheet: A Case Study," by Jian Xie, Tong Zhao, and Chenjun Zhang
---
Journal Papers receiving awards at 9th North American Masonry Conference
"Testing and Codification of Partially Grout-filled Nominally-reinforced Concrete Masonry Subjected to In-plane Cyclic Loads" by David R. Brammer, Barry J. Davidson, Jason M. Ingham, and Kok C. Voon
"Proposed Provisions for Design of Anchorage to Masonry" by Richard Allen, J. Gregg Borchelt, Richard E. Klingner, and Rob Zobel
---
Journal Papers receiving awards at 8th North American Masonry Conference
"Masonry Foundation Wall Systems Under Combined Uplift and Shear Forces" by W. Mark McGinley and Matthew J. Scolforo
"Nondestructive Evaluation of Masonry Structures Using the Impact-Echo Method" by Randall W. Poston, Mary Sansalone, William B. Streett,  A. Rhett Whitlock, and Tamara J. Williams
"Behavior of Unreinforced Brick Masonry Under Lateral (Cyclic) Loading" John Corderoy, David Thambiratnam, and Yan Zhuge
---
Journal Papers receiving awards at 7th North American Masonry Conference
---
Journal Papers receiving awards at 6th North American Masonry Conference
"Stability of Hollow Masonry Walls" by James Colville
"Nonlinear Analysis of Reinforced Concrete Masonry Shear Wall Structures – Cyclic Loading" by Frieder Seible, Gregory R. Kingsley, and Henriette L. LaRovere
"Seismic Response of T-Section Masonry Shear Walls" M.J. Nigel Priestley, and He Limin
---
Journal Papers receiving awards at 5th North American Masonry Conference
"The Use of Confinement Steel to Increase the Ductility in Reinforced Concrete Masonry Shear Walls" by Gary C. Hart, James L. Noland, Gregory R. Kingsley, Robert E. Englekirk, and Niaz Ahmed Sajjad
"Masonry Panel Wall Design" by Clayford T. Grimm
"Bond Stress and Slip in Masonry Reinforced with Spliced Reinforcement" by Z. Soric and L.G. Tulin
---
Related News Articles