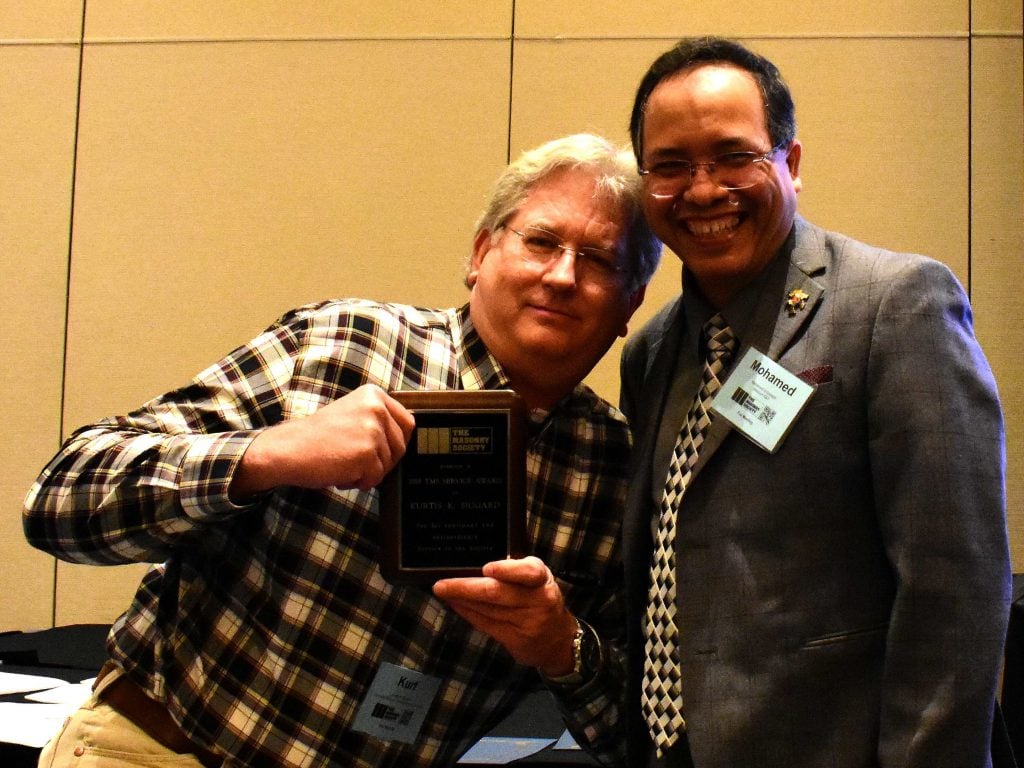 At TMS's 2019 Annual Meeting Awards Luncheon, Mohamed ElGawady, Awards Committee Chair, presented a TMS Service Awards to Kurt Siggard.
Siggard is the Director of the Concrete Masonry Association of California and Nevada (CMACN), a past Board Member of TMS, and a Fellow of the Society. During ElGawady's presentation of the 2019 Service Award, he noted that unsolicited, Kurt Siggard volunteered to lead Membership Recruitment Task Group formed by TMS's Board of Directors to develop new and innovative ways to encourage people to join TMS and to renew their memberships. Siggard led this task group through the beginning of 2019, hosting conference calls, drafting new membership applications and forms, and offering ideas and insights to promote TMS Membership. Based on the Task Group's work & recommendations, TMS is now conducting a Membership Recruitment Campaign, using Membership Application Forms/Promotional Literature that his organization paid to develop and print. Siggard is also offering prizes for the top recruiters of new members. For these reasons, and Siggard's constant promotion of TMS, the Awards Committee recognized him 1 2019 TMS Service Award.
The Masonry Society started the Service Award in 2006 to recognize individuals who volunteer in special, and typically unseen, ways. The intent of the award is to recognize those who continually assist the Society, but who are not normally recognized for their efforts. For additional information on the award, and to see past recipients of the Award, click here.