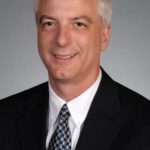 Robert Thomas was presented with the 2009 President's Award at the TMS Awards Luncheon on October 17th. The following is a portion of the speech from TMS President Ray Miller recognizing Thomas for his contributions to TMS.
---
"One of the best things about being TMS President is being able to recognize some of our best with the President's Award. This year, is especially enjoyable, because the recipient is such a good person, and such a great contributor to The Masonry Society. I am awarding this year's President's Award Bob Thomas, all around good guy, and a huge supporter of TMS.
Bob has served TMS is numerous roles, including serving as a member of the Research Committee, Membership Committee, Publications Committee, Nominating Committee, Scholarships Committee, Electronic Communications Committee, Financial Planning Committee, UPMW Steering Committee, Sustainability Committee, Certification Committee, NAMC Steering Committee, ACI/TMS 216 Joint Fire Resistance Committee, Meetings Committee, Disaster Investigation Team, Education Committee (also serrved as past Chaiman), Administrative Committee Team (also served as Chiarman), Executive Committee, and the Board of Directors.
As I am sure you will agree, Bob is "one of the good guys" – always upbeat, and a positive influence on everything he works on. Bob has helped TMS in many ways – serving on Investigating Disasters Teams after Hurricane Fran, moderating sessions as he did earlier today, recruiting new members, serving as a reviewer on papers, and more recently as an extremely wise voice on the Executive Committee and Board of Directors. As I am sure you will all agree with, Bob is a joy to work with – his enthusiasm and good cheer are infectious, and his careful reflection on difficult issues appreciated. He has also served as a friend and guide for our Executive Director – always listening and offering guidance.
Congratulations Bob, and thank you for all you have done for TMS!"