The following is a portion of the speech from TMS President, Ray Miller, in presenting the 2008 President's Award to John Chrysler. Miller recognized Chrysler at the TMS Awards Luncheon on October 18th.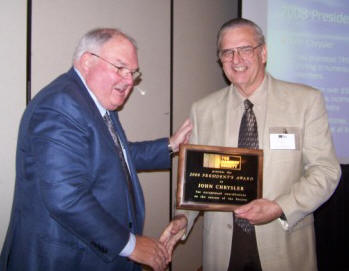 ---
"I am very proud to be able to present my first President's Award. And this year, the winner is an extraordinary person who has helped TMS in countless ways. This man, is a long time member of the Society, and has assisted the Society grow in thrive. He has served in numerous capacities – as committee member, as committee chair, and as "worker bee". He has assisted TMS develop one of our seminar series, giving his own as a model and having a thick skin as the committee "gently" revised the presentation. He is a noted author.
This year's President Award winner helped TMS acquire tens of thousands in publication sales by helping to promote our resources to major resellers. His organization itself helps sell TMS publications, and he helps promote TMS in countless ways, sponsoring TMS events, finding other sponsors, and bringing in many new members.
I find it interesting that this man is often considered a maverick, much like one of presidential contenders. And this man is our President-elect. Yes this year's President's Award goes to John Chrysler, who has given TMS so much of his time and resources. This past year, he helped TMS acquire over $50,000 in publications income from his efforts to have ICC carry TMS products. He gave TMS his Inspection Presentation, which serves as a basis for our own. He serves as chairman of numerous TMS committees, including the Meeting Committee, the Awards Committee and the Construction Requirements Committee of the MSJC.
Congratulations John, and thank you for all you have done for TMS!"