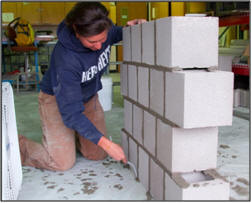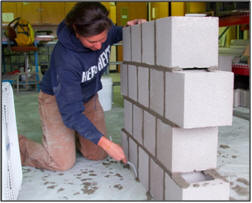 If you are new to masonry, a student, or working on lifelong learning, TMS offers educational resources, scholarships, and offerings to help you in your journey. Get involved to learn more about this fascinating material, or to explore careers in masonry construction, design, evaluation, and education.
---
The Masonry Society and its members love working with students and helping them grow and learn. Some of the opportunities for students include:
Working with TMS members on a local level either in the classroom, or perhaps working for TMS Members. Contact TMS for possible mentoring and employment opportunities.
The Clayford T. Grimm P.E. Student Scholarship is awarded every year to a Master's level graduate student who is conducting research in masonry.
Every 4 years TMS presents the James L. Noland Fellowship to a graduate student who is doing research on masonry
Opportunities to publish one's work is available through TMS Journal, the North American Masonry Conference and other venues. And along with this, TMS presents awards for Outstanding PhD. Dissertations and Master's Thesis and Outstanding TMS Journal papers.
Student Membership is only $35 per year offering access to TMS Resources such as TMS Journal and TMS Responds, while offering discounts on TMS publications, seminars and events. TMS also offers free electronic student memberships that give students access to the Member's area of the website.
Masonry Laboratory Website. These free"Virtual Laboratories", which were developed by Dr. Jennifer Tanner and her students at the University of Wyoming, are set up to enhance your understanding of basic masonry principles which govern design and construction of masonry structures. They provide students, designers, and others interested in masonry with a lab experience, and offer many resources to further the knowledge of masonry.
---