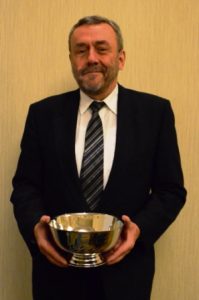 Professor Wolfram Jäger, PhD (Dr.-Ing.), received The Masonry Society's John B. Scalzi Research Award at the Herndon, VA, meetings of TMS October 2013.  The award was presented by Arturo Schultz on behalf of the Research Committee of TMS at the Awards Luncheon.  Dr. Jäger is Professor and Chair of Structural Design at the Dresden University of Technology (TUD).  Prior to this current position, Dr. Jäger was Dean of Architecture at TUD, and he earned his doctorate (Dr.-Ing.) from the same institution in the field of Structural Mechanics.
Dr. Jäger has conducted research on a wide variety of topics related to masonry including structural mechanics of contemporary and historic masonry; design of masonry structures for energy efficiency; strengthening, repair and maintenance of heritage structures; application of modern information technology for survey, analysis and archaeology of heritage structures; and earthquake resistance and seismic retrofitting of masonry structures. In addition, Dr. Jäger is stakeholder and adviser to Jäger Ingenieure GmbH Dresden-Radebeul (a consulting firm specializing in building construction and historical buildings) and Jäger and Bothe Ingenieure GmbH Chemnitz (a consulting firm specializing in the bridges).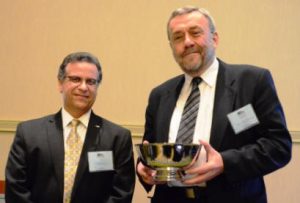 Dr. Jäger has worked on a wide variety of research and high-visibility restoration projects including the Krak des Chevaliers a 19th century Crusader Castle near Homs, Syria; the Sistani House in the Bam Citadel the largest adobe edification in the world located in Kerman Province, Iran; and the archaeological recovery, structural analysis and design and reconstruction of the Church of Our Lady (Frauenkirche) which was destroyed in the bombing of Dresden during World War II. Dr. Jaeger has written over 200 technical publications, edited two books and is the editor of the Masonry Calendar, the latter which is published by Ernst & Sohn, Berlin.