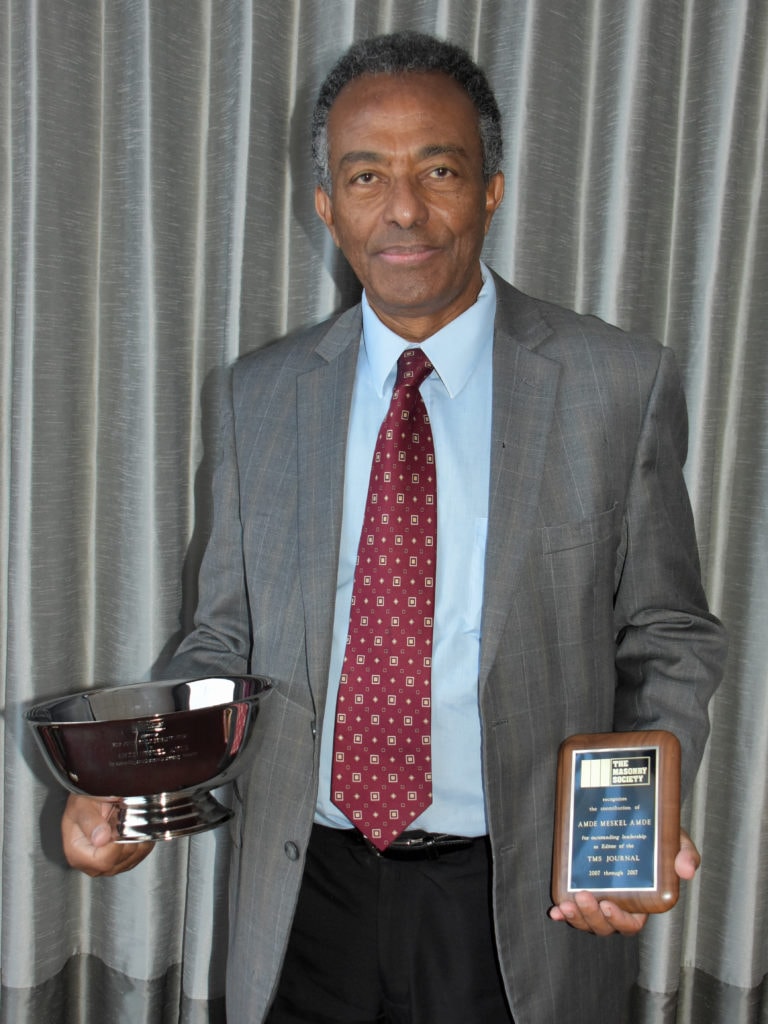 Amde Amde, Ph.D. of The University of Maryland in College Park, Maryland  was presented with the 2017 John B. Scalzi Research Award from The Masonry Society at TMS's Annual Meeting in November. Dr. Arturo Schultz presented the award on behalf of the Research Committee.
During his presentation, Schultz noted that Amde has made significant and lasting contributions to masonry research, and his work is cited in TMS 402 and other works. He also noted that Amde:
Helped develop an Advanced Portable Neutron-based System for nondestructive and non-contact detection and measurement of chlorides in historic masonry structures
Investigated the durability of cementitious materials (including the use of cutting edge technology such as synchrotron radiation, industrial computed tomography and laser shearography),
Researched the behavior of masonry walls in compression including composite walls and hollow concrete masonry walls.
One of his US Patents is related to masonry structures.
This award, named after Dr. John Scalzi of the National Science Foundation, is presented by The Masonry Society to honor an individual who has made an outstanding, lifetime contribution to masonry research. For additional information on the award, and to see past recipients of the Award, click here.
During the Awards Ceremony of The Masonry Society in November, 2017, Amde was also recognized for leading TMS Journal as Editor for the past 10 years.