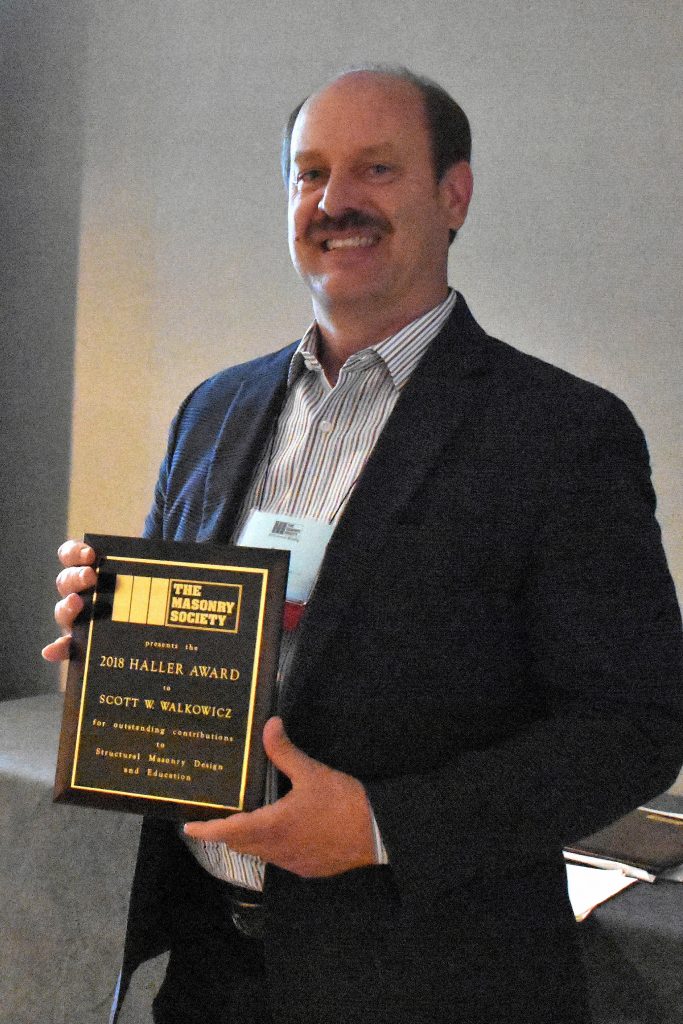 Mr. David Sommer, Chairman of the Haller Award Subcommittee of The Masonry Society's (TMS) Design Practices Committee, presented the 2018 Paul Haller Structural Design Award to Scott Walkowicz, P.E., of Walkowicz Consulting Engineers. Walkowicz who is Past President of TMS, and a President's Award Winner, has served TMS and the masonry industry in many ways during his career. Sommer noted during the presentation that Walkowicz:
has an emphasis on engineering efficiency to avoid over-design so that masonry structures are not only elegant but highly cost effective and time-efficient to build
has focused on proper reinforcement use for appropriate capacity without unnecessary or excess reinforcement
designs utilizing actual and available masonry strengths rather than code minimum values
develops and shares design methods for wide-cavity/long-tie veneer anchor systems
assisted with stone anchorage for limestone, granite, marble and cast stone cladding.
has been a key contributor to development of and education related to masonry industry standards for use in providing tornado shelters.
The award was presented during the Awards Luncheon of The Masonry Society's Annual Meeting in Cleveland, Ohio.
The Haller Award is given to an individual engineer or an engineering firm that has enhanced the knowledge of masonry in practice. This award recognizes the beauty, elegance, and economy of structural masonry projects. Additional information on the on the Award and past winners is available here.