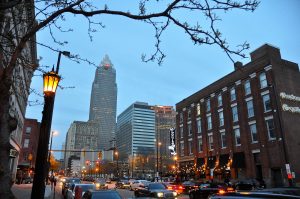 The 2018 Annual Meetings of The Masonry Society will be held October 3rd through 6th in Cleveland, Ohio at the Hyatt Regency Cleveland at The Arcade. The Annual Meetings feature technical sessions, committee meetings, and social activities. Check the links below for additional information.
---
---
Meeting Schedules
Meeting Resources
---
State of the Society Recording
For the past few years, the Society has held a Town Hall Meeting during its business meetings to inform attendees on how the Society is doing, to discuss challenges, and to share opportunities. To consolidate these meetings, TMS hosted a virtual Town Hall Meeting, or "State of the Society" Report, on September 25. TMS leaders provided a quick financial report, discussed known action items for the Annual Meeting, reviewed major accomplishments of the Society, and talked about opportunities available over the next few months. The recording of this report is available for those who were unable to attend. Watch the State of Society Report.
---
Meeting Events & Activities
Arrival Day Event, Tuesday, October 2, Time TBD
If you are arriving Tuesday for the TMS meeting, join other early birds for food and drink at a nearby brewpub after checking in at the Hotel. This is an informal gathering and everyone is encouraged to attend. Please register for this activity so we may plan accordingly. Arrival Day registrants will be emailed with Tuesday evening's details prior to the meeting. Please note that individual costs are borne by attendees.
Architectural Walking Tour of Cleveland, Wednesday, October 3, 9:00 to 11:00 AM
Start off your stay in Cleveland by getting familiar with the area. Take a leisurely stroll through Cleveland's Gateway/ Warehouse Districts and learn about the architecture, people, institutions, and events that have shaped these remarkable urban neighborhoods. This docent led 1.5 hour tour will begin at 9:00 AM on Wednesday, October 3, and end at 10:30 AM. Meet in the Hyatt Regency Hotel lobby at 8:45 AM. Included in the meeting registration fee (One Day-Wed. or Full Mtg).
TMS Member/Guest Reception at Rock & Roll Hall of Fame, Wednesday, October 3, 6:00 to 9:00 PM
This year's Member/Guest Reception will be held at the Rock and Roll Hall of Fame with the generous sponsorship of Seves Glass Block, Inc. Enjoy the company of your fellow TMS Members and Guests at the I M Pei designed building that overlooks Lake Erie. The Rock and Roll Hall of Fame recognizes and archives the history of the best-known and most influential artists, producers, engineers, and other notable figures who have had some major influence on the development of rock and roll music. After finishing your buffet dinner, attendees are free to explore the exhibits. This event is included in the Full Meeting registration fee or the One Day – Wednesday fee and is complimentary for TMS Guests. *Pre-registration is required for this event and must be received by Sept. 21st. No walk-up registrations. Cash bar.
TMS Awards Luncheon, Thursday, October 4, 12:15 to 2:00 PM
Come enjoy a wonderful meal with your friends and colleagues as we honor Dr. Richard E. Klingner, TMS's newest Honorary Member, and W. Mark McGinley, TMS's newest Fellow Member. TMS will announce the 2018 recipients of many awards including the President's Award, Theses Awards, and Service Awards. Acknowledgement will be given to outgoing Directors of the Board and past Committee Chairs. Come join us in congratulating and thanking these special Members for their contributions to TMS and the masonry technical community! This event is included in the Full Meeting Registration or One Day – Thursday fee for attendees. $55 per person fee for additional Guests.
Pizza and Beer Party (Immediately Following TMS 402/602 Meeting), Thursday, October 4, 6:45 to 9:00 PM
Join TMS and TMS 402 committee members for Pizza, Beer, and Games immediately following the Thursday TMS 402 Main Committee meeting. Relax and enjoy a brew with your pizza and wings while trying your hand at some card or board games. This event is included in the Full Meeting Registration, TMS 402/602 Multiple Day, or One Day Thursday-only fee for attendees. Complimentary for Guests.
Masonry Women Get Together, Friday, October 5, 6:00 PM
Join other women meeting attendees as they head out for cocktails and dinner after the TMS 402 committee meetings. The group will decide where they want to go when meeting in the Hotel lobby at 6:00. This is a unique opportunity to network with other women in the masonry industry in a relaxed, casual environment. Please note that individual costs are borne by attendees.
"Younger" Member Get Together, Friday, October 5, 9:00 to 10:00 PM
TMS's "young" and "young at heart" Members will get together on Friday evening after the committee meetings. Younger Member Get Together registrants will be emailed with Friday evening's details prior to the meeting. Please note that individual costs are borne by attendees.
---
Special honors to be presented at this year's meeting
The Masonry Society will formally recognize Dr. Richard E. Klinger as an Honorary Member of TMS and Dr. W. Mark McGinley as a Fellow Member of TMS at the 2018 Annual Meeting Awards Luncheon on Thursday, October 4th, 2018.
Dr. Klinger has made numerous contributions to masonry research, codes, and standards throughout his career. He served as a faculty member at the University of Texas at Austin's Department of Structural Engineering for over 30 years, teaching undergraduate and graduate classes on structural analysis, dynamics, and behavior (including the design of masonry and reinforced concrete structures). Read more
Dr. W. Mark McGinley, Ph.D., P.E., Professor and Endowed Chair for Infrastructure Research at the University of Louisville was nominated as a Fellow Member based on his significant contributions and achievements related to masonry education and research. Read more
---
Special thanks to this year's meeting sponsors!