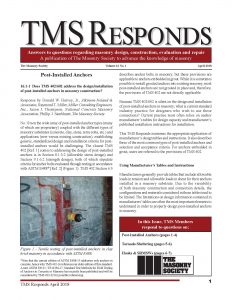 TMS Responds Vol. 16, No. 1 is now available to download from the TMS eStore. This volume includes responses to questions on:
Post-Installed Anchors in Masonry
Tornado Sheltering with Masonry – Debris Impact Testing,
Hook Requirements on Horizontal Reinforcement in Special Reinforced Masonry Shear Walls.
TMS Members can access this and past issues of TMS Responds for free through the TMS eStore.