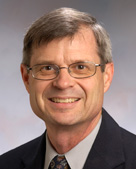 Dr. Richard M. Bennett, Ph.D, P.E., a Professor of Civil and Environmental Engineering at the University of Tennessee, was awarded the 2016 President's Award at The Masonry Society's 2016 Annual Meeting in Raleigh, North Carolina.
---
TMS President, Jerry Painter selected Dr. Bennett for the Award in thanks to Bennett's excellent leadership of TMS's 402/602 Committee for the 2016 cycle and for his constant support of TMS staff and the Society. Painter expressed his thanks to Bennett for leading Committee 402/602 through a number of difficult issues.
Bennett  is also a member of the Board of Directors of The Masonry Society, and a Fellow of The Masonry Society (2012). Dr. Bennett has been very active on the TMS 402/602 Code Committee for a number of cycles, Chairing the Flexural, Axial Loads, and Shear subcommittee and serving as the vice-chair of the 2013 MSJC Committee. Dr. Bennett served as an Associate Editor for TMS Journal, and is an author of the Masonry Designer's Guide. He is a popular speaker, and recently assisted the Society with a week long masonry design course that was offered to the Corps of Engineers.
Bennett has received numerous regional, national, and international awards including the John B. Scalzi Research Award (2014) and a TMS Service Award (2011).