14th North American Masonry Conference
June 11-14, 2023 with the University of Nebraska-Lincoln at Omaha
Abstract Deadline: July 11, 2022
Abstract Acceptance: August 31, 2022
Manuscript Deadline: November 5, 2022
Manuscript Acceptance: April 5, 2023
Important Registration & Hotel Dates
Early Registration Deadline: April 30, 2023
Hotel Room Rate Cutoff: May 12, 2023
---
14NAMC attendees also receive a free TMS Spring Meeting registration! That optional registration is included in the form below.
TMS Members receive discounts of at least 25% on registrations, publications, on-demand education and more. Consider becoming a Member and save more on this registration than the cost of your membership!
Register
---
Early Rates
Early rates are available through April 30, 2023
| | | | |
| --- | --- | --- | --- |
| | Full | Student | One-Day |
| TMS Member | $750 | $375 | $450 |
| Non-Member | $1,000 | $500 | $600 |
| Wire Transfer Fee* | $0 | $10 | $10 |
Regular Rates
Regular rates apply to registrations received after April 30, 2023
| | | | |
| --- | --- | --- | --- |
| | Full | Student | One-Day |
| TMS Member | $900 | $450 | $540 |
| Non-Member | $1,200 | $600 | $720 |
| Wire Transfer Fee* | $0 | $10 | $10 |
*Wire Transfer Fee: Student and One-Day registrations paid via wire transfer will be charged an additional $10 fee
Late Registration Fees: On-site registrations will be charged an additional $100 fee
---
Detailed Conference Schedule
For the most up-to-date schedule, use the 14NAMC Mobile App or the website version of the app. The app provides detailed schedule of all 14NAMC activities as well as committee meetings during the TMS Spring Meeting.
Log in to the app to create your own agenda, check in to presentations for certificates of attendance, and sync your actions with the website version.
Schdule for 14NAMC and TMS Spring Meeting
A draft schedule for the 14NAMC and 2023 TMS Spring Meetings is posted below.
Last Revised May 18, 2023. This schedule may be subject to change.
Schedule of Technical Sessions
A detailed schedule of technical sessions showing paper titles and authors is posted below. See the conference schedule above for times and room assignments for each session.
Last Revised May 9, 2023. This schedule may be subject to change.
Conference App
Use the conference app to view the schedule and create your own agenda, read papers and view speaker information, network with other attendees, check in to sessions, and more!
Check In to Presentations for Certificates of Attendance
Remember to check in to presentations that you attend to receive credit for attending that session! Only one check-in per time block will be used to provide credit. Certificates of attendance will be emailed to attendees after the conference. Please allow 7-10 business days following the conference for processing.
How to check in to a presentation:
Open the menu and select Schedule

Find and open the presentation that you attended

Use the Session Check-In button to check in (availability begins 15 minutes before a presentation and ends 15 minutes after)

Check in to at least one presentation per track/session
• There are multiple presentations per track/session. You only need to check in to a minimum of one paper per session to receive full credit for that session. (e.g., checking in to just "Mortar Meet Granite" will provide two hours of credit for Session A1.)
• Credit will only be provided for one track/session per time block. (e.g, you can receive credit for Session A1 or B1 but not A1 and B1.)
---
| | | |
| --- | --- | --- |
| Ece Erdogmus, Co-Chair | Shawn Kolterman | Linda Potter |
| Melissa Hoffman, Co-Chair | Brandon Kreiling | Bora Pulatsu |
| Andrew Bechdolt | Lisa Lackovic | Phillip Samblanet |
| Noah Buchanan | Nick Lang | Susan Scheurer |
| James Cain | John LaRandeau | Jason Thompson |
| Semsi Coskun | | |
| | | |
| --- | --- | --- |
| Bora Pulatsu, Chair | Semih Gonen | Michael Schuller |
| Semsi Coskun, Assistant Chair | Paulo B. Lourenco | Nigel Shrive |
| Sinan Acikgoz | Daniele Malomo | Jennifer Tanner Eisenhauer |
| Bennett Banting | William McGinley | Nicola Tarque |
| Richard Bennett | John Myers | Jason Thompson |
| David Biggs | Fulvio Parisi | |
| Wael El-Dakhakhni | Phillip Samblanet |   |
Educational Outreach Committee
| | |
| --- | --- |
| Ece Erdogmus, Georgia Tech | Nick Lang, Concrete Masonry & Hardscapes Association |
| Semsi Coskun, Georgia Tech | Linda Potter, Hohmann & Barnard |
| Robert Chamra, Walter P Moore & Associates, Inc. | Bora Pulatsu, Carleton University |
| Tom Elliot, International Masonry Institute | Jason Thompson, Coltivomae |
| Lisa Feldman, University of Saskatchewan | Rachel Will, Wiss, Janney, Elstner Associates, Inc. |
| Melissa Hoffman, University of Nebraska‐Lincoln | Noah Buchanan, The Masonry Society+ |
| Brandon Kreiling, University of Nebraska‐Lincoln | |
+To assist with the web‐form for collection of entries and printing of finalist posters/drawings.
---
June 12, 2023 Morning Keynote (8:00 - 9:00 AM)
Advanced Computational Approaches for the Seismic Vulnerability of Complex Historical Masonry Structures
The keynote lecture reviews some recently presented advanced computational limit analysis approaches for the evaluation of the seismic vulnerability of historical masonry structures. Particular attention is devoted to limit analysis upper bound methods based on a discretization of the domain with NURBS volumes and full 3D Distinct Element DE lower bound approaches in limit analysis. In the first family of approaches, particular attention is devoted to both the case of a heterogeneous modelling for complex 3D geometries and a homogeneous discretization where the mesh is progressively adapted by means of meta-heuristic strategies aimed at reproducing with high fidelity the actual failure mechanism active. The second family of computational strategies is characterized by the possibility to approximate iteratively the no-tension material case. A modification to take into account the possible non-associativity is also investigated. Several examples of major relevance are discussed, including masonry aggregates, churches, towers, pagodas, arches and bridges, vaults and domes.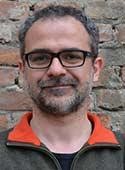 Gabriele Milani, Eng. PhD, is Full Professor of Structural Mechanics at the Department of Architecture, Built Environment and Construction Engineering, Technical University of Milan, Italy. Previously Associate (2014-2019) and Assistant Professor (2008-2014) in the same university. Chair professor at Yangzhou University, PRC (2019-2020), visiting at Newcastle University, UK (2016, 2017) and IIT Bombay, India (2022). His scientific interests are manyfold and include masonry modelling and experimentation, seismic engineering, preservation of historical constructions, timber, limit analysis, innovative strengthening with composite materials, Structural Health Monitoring, genetic algorithms (GA), rubber vulcanization and elastomeric seismic isolation. He published more than 300 papers in high-impact international journals in different fields of structural mechanics, he edited several books and co-authored many book chapters, he was invited as keynote speaker in internationally recognized conferences and co-chaired the 18th International Masonry Conference in 2018. He will co-chair the next IB2MaC in 2024 (Birmingham, UK). He is the first author in Scopus under the keyword "Masonry". He is EB member in both high-reputation journals and international congresses, he was awarded a Most Cited Author Award for a paper in Computers & Structures, a Telford Premium and a K.J. Bathe Award.
June 13, 2023 Morning Keynote (8:00 - 9:00 AM)
Buildings, Robotics and AI: Future of AEC
M.Z. Naser, Clemson University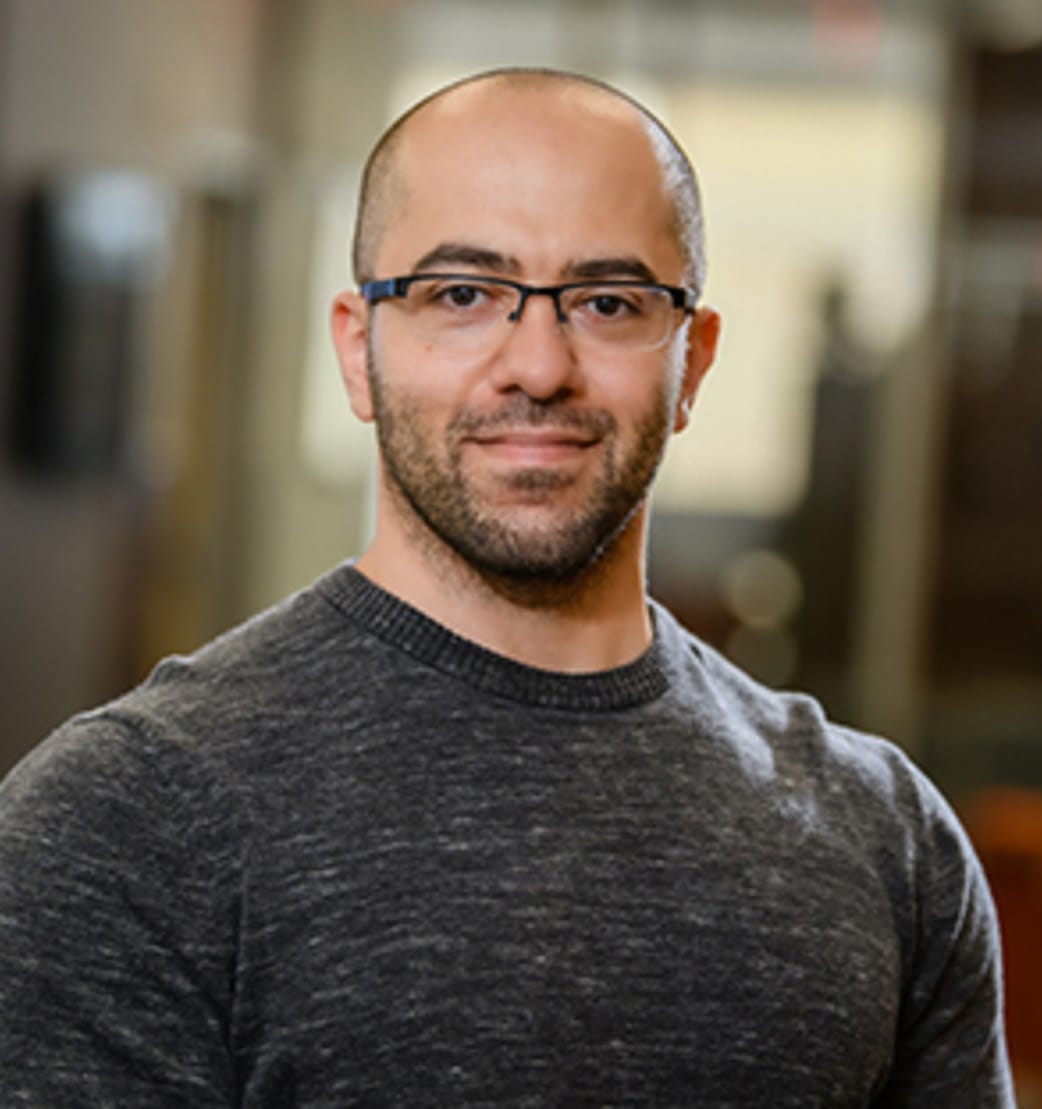 M.Z. Naser is an assistant professor at the School of Civil and Environmental Engineering and Earth Sciences & a member of the Artificial Intelligence Research Institute for Science and Engineering (AIRISE) at Clemson University. At the moment, his research group is creating Causal & eXplainable machine learning methodologies to discover new knowledge hidden within systems belonging to the domains of Structural engineering and Materials science to help us realize functional, sustainable, and resilient infrastructure. He is currently serving on a number of international editorial boards, as well as codal building committees (in ASCE, ACI, PCI, and FiB), and is the chair of the ASCE Advances in Information Technology committee. He has published more than 100 peer-reviewed papers and three books on structural engineering and machine learning.
Javier Irizarry, Georgia Institute of Technology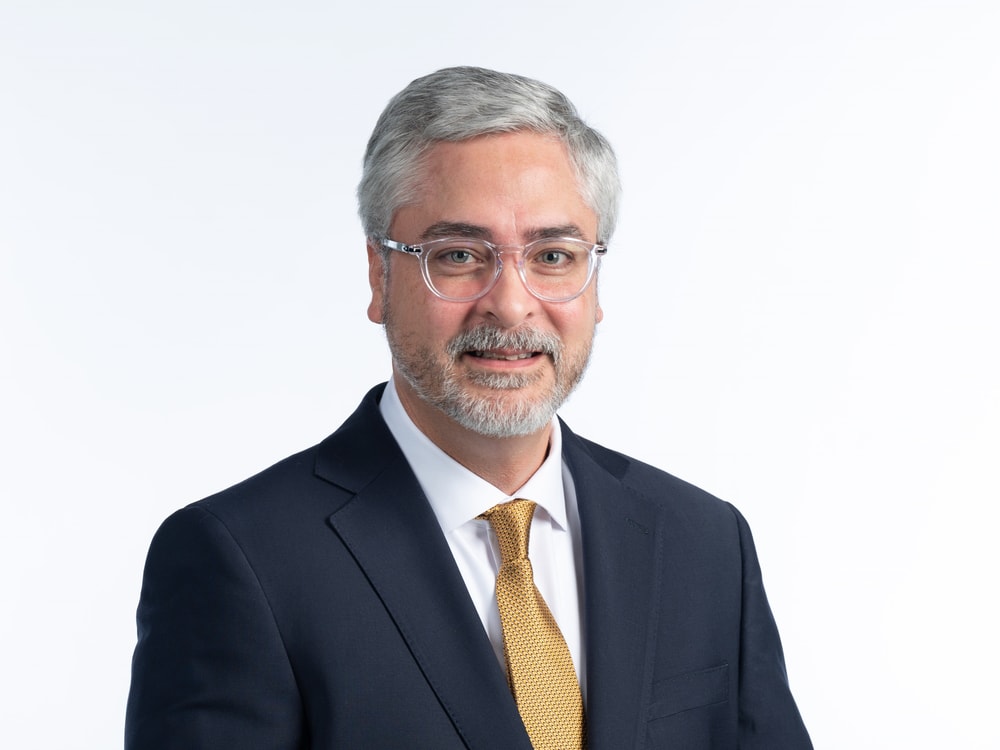 Javier Irizarry, is a pioneer of research on Uncrewed Aerial System applications in the built environment, the Director of the CONECTech Lab at Georgia Tech; and an author of the book Construction 4.0 which presents the framework for developing next generation technology enhanced solutions for construction problems. He has over 20 years of academic and industry experience and has authored over 100 academic articles. His research has been nationally and internationally recognized and focuses on construction information technologies including virtual and augmented reality, reality capture technology, and Uncrewed Aerial Systems application in the AEC domain. Javier is a registered Professional Engineer (PE) as well as a FAA Certified Drone Pilot.
June 13, 2023 Local Case Study Keynote Presentation (During Lunch)
This 30-minute panel discussion will begin about halfway through lunch on Tuesday.
Farm Credit Services of America: Rediscover the Possibilities of Brick
Panelists: Jeff Chadwick – Clark & Enersen, Aaron Hartung – Clark & Enersen, Blake Thomas – Clark & Enersen, Jeff MacTaggart – JM2 Masonry, and Keith Nolda – JM2 Masonry
Farm Credit Services of America isn't your average corporate campus. Each building features a unique brick design that tells a story and sets this campus apart from any other. The Clark & Enersen Design Team will share the vision behind the brick design. JM2 Masonry will share the challenge behind building the brick design. Together they'll share how they collaborated to make the most recent building on this campus into a reality.
---
Omaha's Capitol District
The Capitol District is Omaha's destination dining and entertainment district surrounding a modern town square. It's the urban spot where fun-seekers can live, eat, and drink in one community—all within walking distance of Omaha's best civic, cultural, and entertainment venues. The 14NAMC host hotel is the Omaha Marriott Downtown at the Capitol District. The conference technical sessions will be held here as well as most conference activities.
| | |
| --- | --- |
| The Capitol District | The Old Market |
Omaha Marriott Downtown at the Capitol District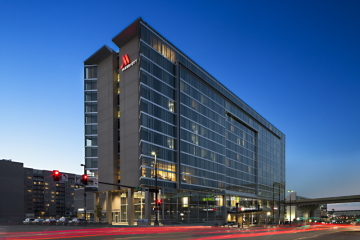 Whether you're visiting from near or far, the high-rise Omaha Marriott Downtown at The Capitol District is a relaxing retreat surrounded by attractions in all directions. The hotel is the newest and only full-service Marriott branded hotel in downtown Omaha offering progressive hospitality design concepts in both public space and private guest rooms. Visitors can enjoy their full-service restaurant and bar, in-house Starbucks café, extra-large fitness center, and outdoor swimming pool. The 17,500 square foot ballroom and meeting space provides room for the entire conference.
Hotel Reservations
The 14NAMC has a room block for conference attendees at $179 per night. The room rate is available June 7 through 14. It may also be available three days pre and post conference upon special request. The NAMC room block special rate cutoff date is May 12, 2023. Reservations may be cancelled up to 2 days before your arrival date. Use the link below to make your reservation.
Reservation Link
Hotel Address & Directions
Omaha Marriott Downtown at the Capitol District
222 North 10th Street
Omaha, Nebraska 68102
Phone: 402-807-800
 
Getting to the Hotel
The hotel provides complimentary shuttle service from Eppley Airfield. Eppley is 4.4 miles from the hotel. Call 402-807-8000 for shuttle information and scheduling.
Alternatively, you can use OMALiNK for your airport transportation needs.
Parking is available at the hotel. The rate is currently $21USD per day.
---
Pioneer Spirit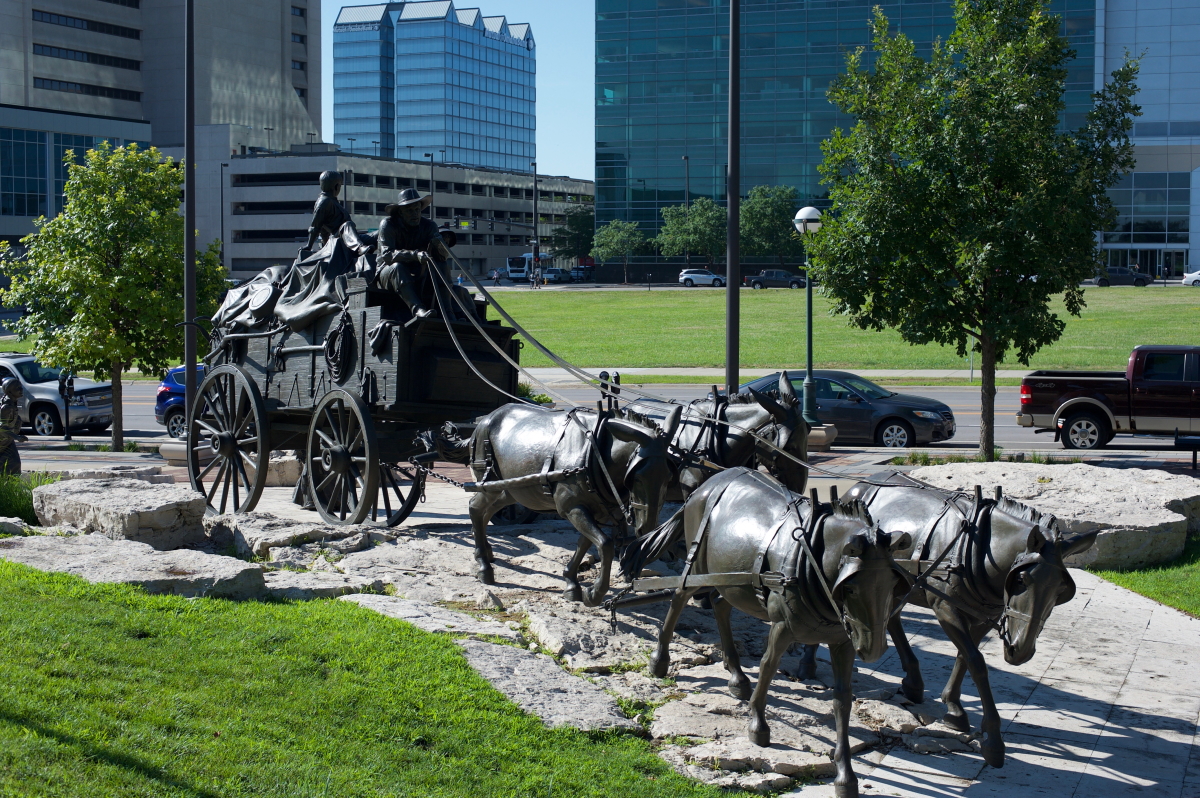 The territory that would eventually become the city of Omaha, Nebraska, was acquired as a part of the Louisiana Purchase, which was completed by Thomas Jefferson in 1803. The open plains of the central United States were, at this time, uncharted lands which held uncertain potential for the developing nation.
Following a treaty with the Omaha tribe, whose name means "Dwellers on the Bluff," the Nebraska Territory was created as a part of the Kansas-Nebraska Act and the city of Omaha founded on July 4, 1854. Omaha was a stopping point for settlers and prospectors heading west, either overland or by the Missouri River. Omaha emerged in the 1860s and 70s as a Midwest industrial hub, chosen as the point for Western expansion of the transcontinental railroad. Early industry in Omaha included brick manufacturing, breweries, and smelting.
The construction of Rosenblatt Stadium in 1950 really put Omaha on the modern map. The College World Series has been held there ever since, claiming over 6,000,000 fans to date. In recent years, the Omaha riverfront and downtown area have experienced tremendous growth with over two billion dollars in new development and revitalization. A one-of-a-kind $22 million pedestrian bridge S-curves its way across the Missouri River, the signature, cable-stayed Bob Kerrey Bridge is one of the longest pedestrian bridge projects. Headquartered in Omaha are three of the nation's ten largest architecture/engineering firms: DLR Group, HDR, Inc., and Leo A. Daly. Kiewit Corporation is one of the largest construction and engineering organizations in North America and McCarthy Building Companies, Inc. is routinely acknowledged as the top health care facility construction company in the nation. Both are based in Omaha.
Today, almost half a million people call Omaha home, making it the 42nd largest city in the United States. Whether it is the frontier spirit that first brought residents, or the entrepreneurial spirit that inspires Omaha's most famous citizen, the world's richest man Warren Buffett, there is something in the air in Omaha: a guiding spirit sure to lead future Omahans to continue the preservation of their city's past, the revitalization of its present, and the innovation of its future.
Things To Do in Omaha
The Top Five Attractions in Omaha
Omaha's Henry Doorly Zoo and Aquarium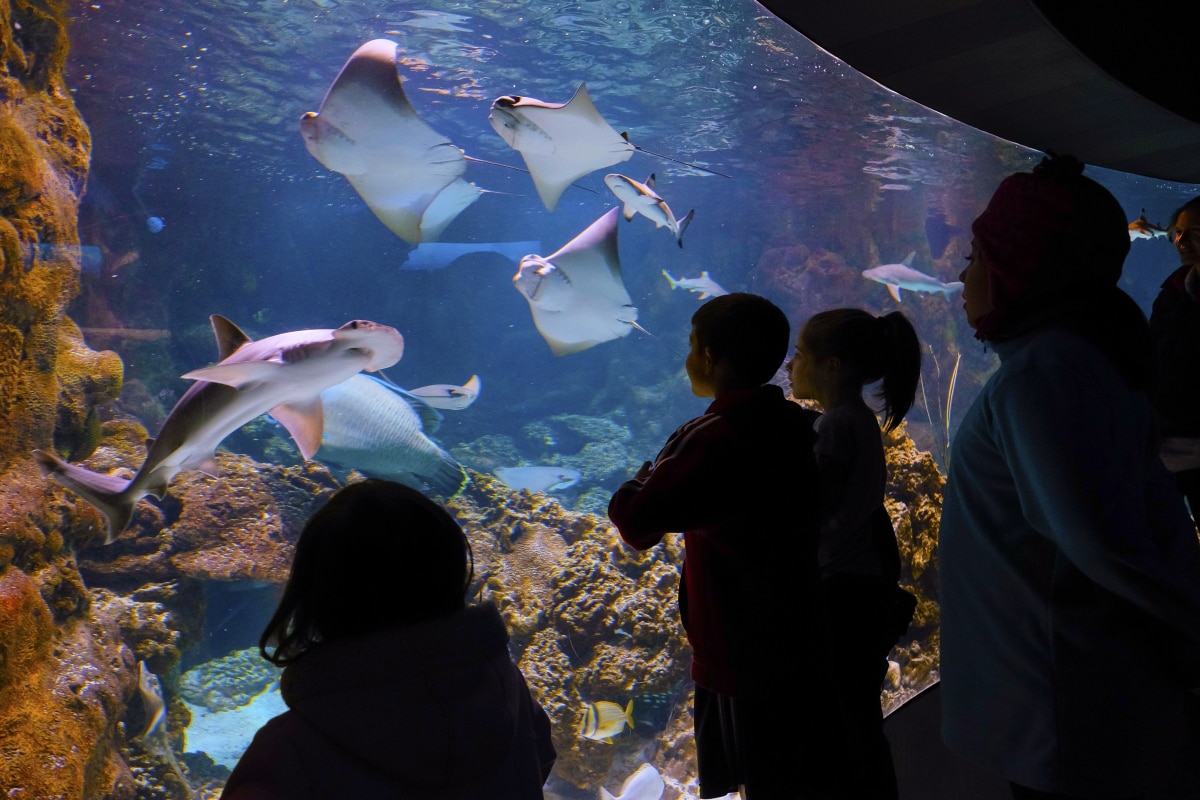 : In 2014, TripAdvisor proclaimed Henry Doorly Zoo of Omaha the "world's best zoo", leading San Diego Zoo and Loro Parque, based on an algorithmic assimilation of millions of reviews for 275 major zoos worldwide. Omaha's Henry Doorly Zoo and Aquarium is nationally renowned for its leadership in animal conservation and research.
Evolving from the public Riverview Park Zoo established in 1894, today the zoo includes several notable exhibits. It features the largest cat complex in North America; "Kingdoms of the Night" is the world's largest nocturnal exhibit and indoor swamp; the Lied Jungle is one of the world's largest indoor rainforests, and the "Desert Dome" is one of the world's largest indoor deserts, as well as the largest glazed geodesic dome in the world. The zoo is Nebraska's top paid attendance attraction and has welcomed more than 25 million visitors over the past 40 years.
Joslyn Art Museum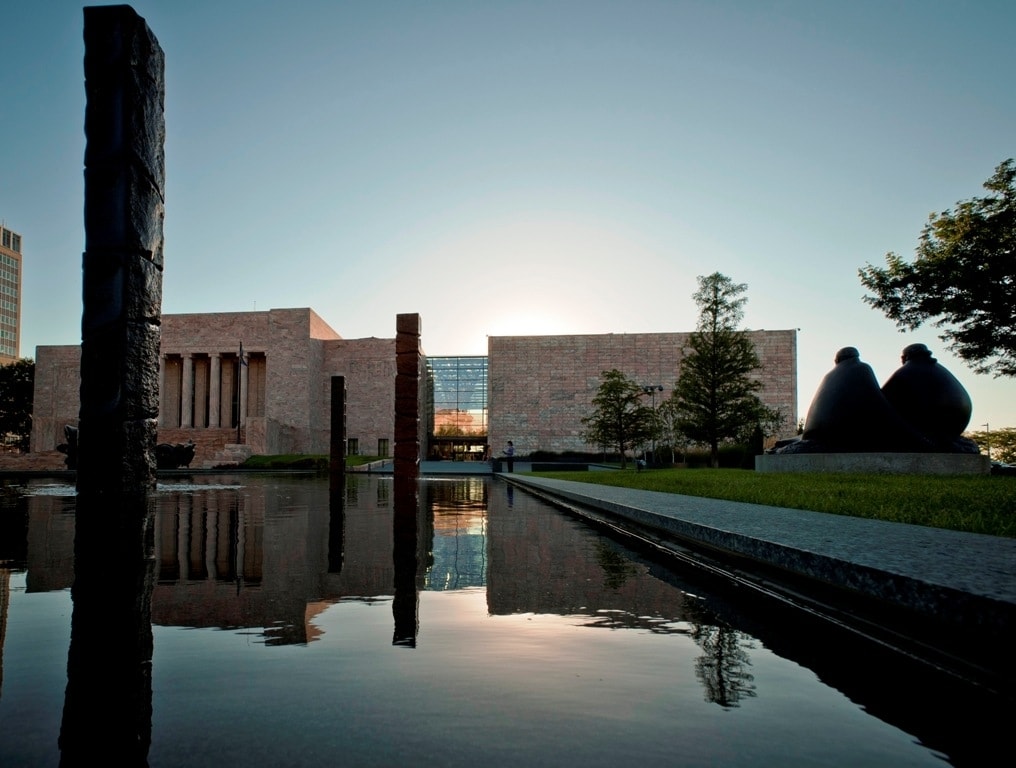 : The Joslyn Art Museum is the principal fine arts museum in the state of Nebraska. It was opened in 1931 at the initiative of Sarah H. Joslyn in memory of her husband, businessman George A. Joslyn. It is the only museum in the state with a comprehensive permanent collection. Although the Joslyn Art Museum includes works from Titian, Rembrandt, Degas, Monet, and Pissarro among others; its greatest strengths are the outstanding art collections of the nineteenth and twentieth centuries of American and European artists such as Jackson Pollock, Hans Hoffman, Pierre-Auguste Renoir, William-Adolphe Bouguereau, and many others. Construction of the Joslyn Art Museum is also of interest to the 14NAMC visitors as well. In 1928, Kiewit, started construction of the museum. It is a large and impressive Art Deco building designed by John and Alan McDonald; and constructed of Georgia Pink marble, with 38 different marbles from Belgium, France, Germany, Italy, Morocco, and more locations from around the world.
Durham Western Heritage Museum: Beautiful architecture blends with memories of a time gone by at The Durham Museum. Making its home in one of Omaha's most unique treasures, Union Station, the Durham Museum offers a fascinating look at the history of the region and offers a broad range of traveling exhibits, covering subjects ranging from history and culture, to science, industry, and more through its affiliation with the Smithsonian Institution and strong ties with the Library of Congress, National Archives, and the Field Museum.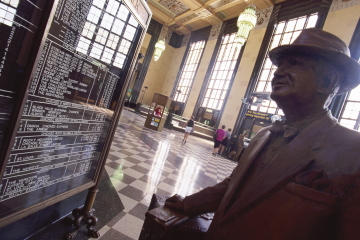 Towers of Tomorrow LEGO® Bricks - Sunday (12:00 - 4:00 PM) and Monday/Wednesday (10:00 AM - 4:00 PM
Before the reception on Sunday or between events on Monday and Wednesday, visit the Durham Museum for a LEGO® exhibit. Price: $13 adults/ $7 children ages 3-12/ Free for members and children 2 and younger
The exhibit features 20 astonishing skyscrapers from North America, Asia and Australia constructed in breathtaking architectural detail by Ryan McNaught, one of only 12 LEGO®-certified professionals in the world. Visitors will be inspired to create their own 'towers of tomorrow' with over 200,000 loose LEGO® bricks available in hands-on construction areas.
Joslyn Castle: In 1903, George and Sarah Joslyn completed one of Nebraska's greatest homes—a 35-room Scottish Baronial mansion atop a hill on Omaha's outskirts. The Castle and the carriage house were built of Kansas silverdale limestone.
Kiewit Luminarium (Opening in April/May 2023): Luminarium appears to be rooted in the word illuminate, and that's just what the new science and technology center will do: shine light on subjects like science, technology, engineering, and math. Designed by Omaha architecture firm HDR, with The Exploratorium, a San Francisco-based museum of science, technology, and arts leading the design of programming and exhibits, and built by Kiewit Construction, an additional two-story exhibit space will be devoted to the science of materials. Visitors will explore the weight, strength, and other qualities of materials used for construction and other purposes.
---
Conference Tours and Events
Secret Omaha Guided Walking Tour
Sunday, 1:00 – 3:00 PM
Cost: $15 per person
After checking in at the NAMC registration desk, get familiar with the conference host city with this walking tour led by Ryan Roenfeld, author of the book Secret Omaha. Once called "the gateway to the West", you will get an insider's look of downtown Omaha and it's place in history while strolling past it's interesting architecture, historical buildings, monuments, art galleries, restaurants, and boutiques. Meet in the hotel lobby and the group will head to the tour starting point. Wear comfortable shoes and dress for the weather. This tour is limited to the first 30 people to sign up at registration.

Old Market Brewery Tour
Sunday, 3:00 – 5:00 PM
Cost: Individual costs are borne by attendee
Did you know Omaha has over 15 craft beer breweries? Nebraska has over 50! Whether you prefer Ales, IPAs, Wheats, Lagers, Porters, or Stouts, we have the beer for you. Try a bit of local flavor and join us for a walking tour of 3 of downtown Omaha's breweries. Meet at Thunderhead Brewing, 1037 Jones Street. We will walk to Upstream Brewing Company, 514 S 11th Street. Last call is at Brickway Brewery & Distillery, 1116 Jackson Street (you had us at brick!). We will enjoy a beverage at each stop and walk to the next location. Food is available at Upstream Brewing Company. Not a beer drinker? Alternatives are available at all locations.

Student Reception
Sunday, 5:30 – 6:30 PM
Preceding the NAMC Opening Reception and following the student poster exhibition, those registered as Students for the conference, can mingle with their peers and enjoy food and drink. Students may then stay for the Opening Reception which will follow immediately and network with other conference attendees and industry professionals. Included in Student registration.

Welcome Reception
Sunday, 6:30 – 8:30 PM
Meet and mingle with your fellow conference attendees, presenters, guests, and sponsors for a casual dinner and drinks at our host hotel. Included in registration fee for attendees and their guest(s).

Monday Night Social Event
Monday, 6:30 – 10:00 PM
Join your fellow conference attendees for a light dinner, dessert at the Durham's old fashioned soda fountain, drinks, and dancing at the historic Durham Museum. See the description of the Durham under "Things to do in Omaha ". Live music will be provided by the Day Traders. Ollie the Trolley will be providing round trip transportation between the hotel and the Durham continuously between 6:15 and 10:15PM. Included in registration fee for attendees and their guest(s).

Towers of Tomorrow LEGO® Bricks
Sunday (12:00 - 4:00 PM) and Monday/Wednesday (10:00 AM - 4:00 PM
Before the reception on Sunday or between events on Monday and Wednesday, visit the Durham Museum for a LEGO® exhibit. Price: $13 adults/ $7 children ages 3-12/ Free for members and children 2 and younger
The exhibit features 20 astonishing skyscrapers from North America, Asia and Australia constructed in breathtaking architectural detail by Ryan McNaught, one of only 12 LEGO®-certified professionals in the world. Visitors will be inspired to create their own 'towers of tomorrow' with over 200,000 loose LEGO® bricks available in hands-on construction areas. Learn more here.
Tuesday Night Reception and Awards Banquet
Tuesday, 6:30 – 9:00PM
Cost: Included with registration. Separate fee required for guests.
A light reception precedes the Awards banquet. This plated dinner will be followed by presentations of awards including Best NAMC papers and TMS Journal Outstanding Paper Awards.
Masonry iQ Hands-On Workshop
Wednesday, 9:30 – 11:30 AM
Cost: $50 per person
Tom Cuneio, founder of 3DiQ, will walk you through how to increase the Level of Development (LOD) of a masonry REVIT model using this specialized plug-in. While a short overview of MasonryIQ will be given on Monday at the conference, this workshop will take a "deeper dive" into the system allowing attendees to both use and learn more about it. Southeastern Concrete Masonry Association (SCMA) will generously provide the iQ software to all attendees during the workshop. Location: host hotel.
Space for the workshop is limited. Admittance will be based on order registered.
Attendees must bring their own laptops with REVIT installed for full engagement at the workshop.
---
Post-Conference Tours & Events (Optional)
Quick Lunch Suggestion
The Omaha Downtown Food Truck Rodeo is held every Wednesday approximately 2 blocks from the Hotel. More information will be available on the conference app.

Please choose only one of the tours below to attend:
Kiewit Luminarium Tour
Wednesday, 1:00 – 3:00 PM
Cost: TBD*
*The discounted admission fee for this tour will be posted in April when the museum opens. Registrations before then will be emailed a separate link to complete payment.
The Luminarium, a STEM museum, opens in April 2023 with more than 100 interactive exhibits. As a glowing beacon on Omaha's Riverfront, this science center is part workshop and part museum. The guided tour will be led by a representative of HDR, the architectural firm that designed the museum, and a representative for Kiewit Luminarium. A featured exhibit focuses on building materials! For more information on Luminarium, see "Things to Do in Omaha". Meet in the hotel lobby at 1:00 for the short walk over to the museum. Wear comfortable shoes and dress for the weather.

Construction Site Visit + Watkins Concrete Block Plant Tour
Wednesday, 1:45 – 6:00 PM
Cost: $35 per person
Visit a local construction site on your way to the Watkins Concrete Block plant. At Watkins, you will be given a tour of their recently renovated concrete block plant and experience a special Tequila tasting in Watkins' front yard, courtesy of steering committee member, Shawn Kolterman. Meet in the hotel lobby at 1:45 PM as our deluxe motor coach, featuring high back reclining seats, air conditioning, and restrooms, will leave the hotel promptly at 2:00 PM, returning to hotel around 6:00 PM. Light snacks will be provided. Please wear comfortable clothing, long pants, and closed toe shoes.
---