More information coming soon
Hotel Information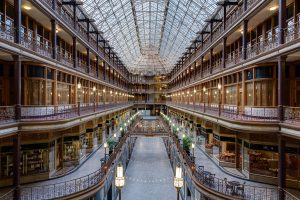 The Host hotel for TMS's 2018 Annual Meeting is the Hyatt Regency – Cleveland at The Arcade. The Arcade opened in May of 1890 as the first indoor shopping center in America. It quickly became one of downtown Cleveland's most popular landmarks, and was nicknamed Cleveland's Crystal Palace. John M. Eisenmann and George H. Smith designed it as a big-city mercantile center and modeled it after the Galleria Vittorio Emanuele II in Milan, Italy. The cost to build it was $875,000. It was financed by Cleveland's most esteemed businessmen of the late 19th century: John D. Rockefeller, Steven V. Harkness, Louis Severance, Charles Brush, and Marcus Hanna.
The Arcade was the first building in Cleveland and the ninth in the country to be placed on the National Register of Historic Places. Over time, The Arcade Cleveland began to deteriorate, raising concerns about the landmark's future. In an unprecedented public/private partnership, the city secured the funding to complete the renovation of this historic jewel. The $60 million renovation was completed in May of 2001.
Today, Hyatt Regency Cleveland at The Arcade occupies the top three levels of the atrium and the two towers. Boutique retail, services, a food court, and fine dining comprise the lower two levels, which are open to the public daily.
TMS Hotel Room Block Rates:
Single or Double Occupancy: $155.00 per night
Triple Occupancy: $ 180.00 per night
Quadruple Occupancy: $205.00 per night
Click here to reserve a room at the special TMS rate
*Cutoff date for TMS rate is September 11, 2018
Address:
Hyatt Regency – Cleveland at The Arcade
420 Superior Avenue E.
Cleveland, OH 44114
800-291-9434‎
---
Related News Articles