Special Inspection of Structural Masonry Construction – La Jolla, CA – November 2, 2017
November 2 @ 8:00 am

-

5:00 pm

PDT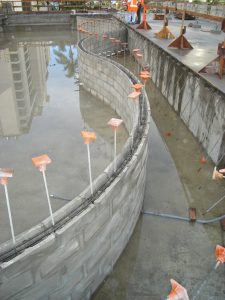 The Masonry Society (TMS) with the support of the Concrete Masonry Association of California and Nevada (CMACN), and the Masonry Institute of America (MIA) are sponsoring this comprehensive course aimed at helping inspectors, testing technicians, engineers, and building officials identify and verify key quality assurance items on the jobsite. The presentation uses the 2015 International Building Code (IBC) and the MSJC (TMS 402/ACI 530/ASCE 5 & TMS 602/ACI 530.1/ASCE 6) as the primary references and it overviews related ASTM standards and inspection guides.
Attendees will learn code inspection requirements, proper placement of materials, mortar and grout, how to determine the compressive strength of masonry, and appropriate severe weather procedures. This is an excellent course for those preparing for the ICC/TMS Structural Masonry Special Inspectors Certification Examination or to accumulate ICC Preferred Provider CEU's for renewal certification.
---
*Registrations include a comprehensive set of handouts as noted below and light refreshment breaks. Lunch is not provided.
Register using the linking below:
$360.00 – $510.00 Select options
---
Certificates of attendance and 7.5 hours of AIA Continuing Education credit will be provided to attendees who request them.
---
---
Topics that will be covered include:
• Basic terms, inspection duties and responsibilities
• Masonry material requirements including CMU, brick, mortar, reinforcement, connectors and grout
• Mortar mixing
• Basic construction including unit placement and tolerances
• Reinforcement placement
• Grouting
• Testing of units, grout, and prisms
• Hot and cold weather construction
---
Handouts
Each seminar attendee will receive a comprehensive set of Audience Notes that contains a printed copy of the PowerPoint Presentation that will be used for the seminar. This helpful handout guides attendees through the presentation and identifies key areas of inspection and various code requirements related to inspection.
In addition, seminar attendees may order the 2013 Building Code Requirements and Specification for Masonry Structures and Companion Commentaries (TMS 402/602), and the Reinforced Concrete Masonry Special Inspectors Handbook, 9th Edition at special discounted prices. Both are essential references for Inspectors in the field, and for those planning on taking the ICC Special Masonry Inspectors Certification Examination.
Order the TMS 402/602-13 and the RCMIH at discounted rates when registering for this seminar
---
Instructors
John Chrysler, P.E. FTMS is the Executive Director of the Masonry Institute of America and has been a member of the masonry industry since 1968 as a contractor, licensed Civil Engineer, and an ICC and DSA Certified Structural Masonry Inspector. He is a well-known author of numerous books and articles, including the popular "Reinforced Concrete Masonry Construction Inspector's Handbook". Chrysler serves on numerous committees and organizations, is a past-President of The Masonry Society, and is the Chair of TMS 402/602 for the 2022 Revision Cycle. He has served on the ICC/TMS Special Masonry Special Inspector's Examination Committee since it began.
Kurtis K. Siggard, FTMS is the Executive Director of the Concrete Masonry Association of California and Nevada (CMACN) where he is responsible for all activities of the Association. Prior to leading CMACN, Mr. Siggard worked in senior management positions for over twenty years in the fields of geotechnical engineering, materials testing, construction inspection, and construction management. During that time he spent ten years as an Associate Professor teaching courses in construction materials and inspection. Siggard is a member of a number of organizations including ASTM, MACS, NCMA, BSSC, AIA and ICC. He is very active Member of The Masonry Society, having served on the Board of Directors for a number of years and he currently serves on TMS 402/602 and the Design Practices Committee.
---
About the Concrete Masonry Association of California and Nevada (CMACN)

The Concrete Masonry Association of California and Nevada (CMACN) is a non-profit professional organization established in October 1977, committed to strengthening the masonry industry in California and Nevada. CMACN addresses specific construction issues such as structural, earthquake, and energy consumption design. On behalf of its members, CMACN documents technical and compliance capabilities of concrete masonry products relating to codes and project specifications. These technical studies are published and available to members and design firms. For more information, visit cmacn.org.
---
About the Masonry Institute of America (MIA)

The Masonry Institute of America (MIA), founded in 1957 under the name of Masonry Research, is a promotion, technical and research organization established to improve and extend the use of masonry. MIA is active in California and throughout the United States in the development of national building codes, promoting new ideas and masonry work, improving existing building codes, conducting research projects, presenting design, construction and inspection seminars and writing technical and non-technical papers, all for the purpose of improving the masonry industry. For more information, visit www.masonryinstitute.org.