2017 TMS Annual Meeting – La Jolla, CA – November 3-7, 2017
November 3, 2017 @ 8:00 am

-

November 7, 2017 @ 10:00 am

PDT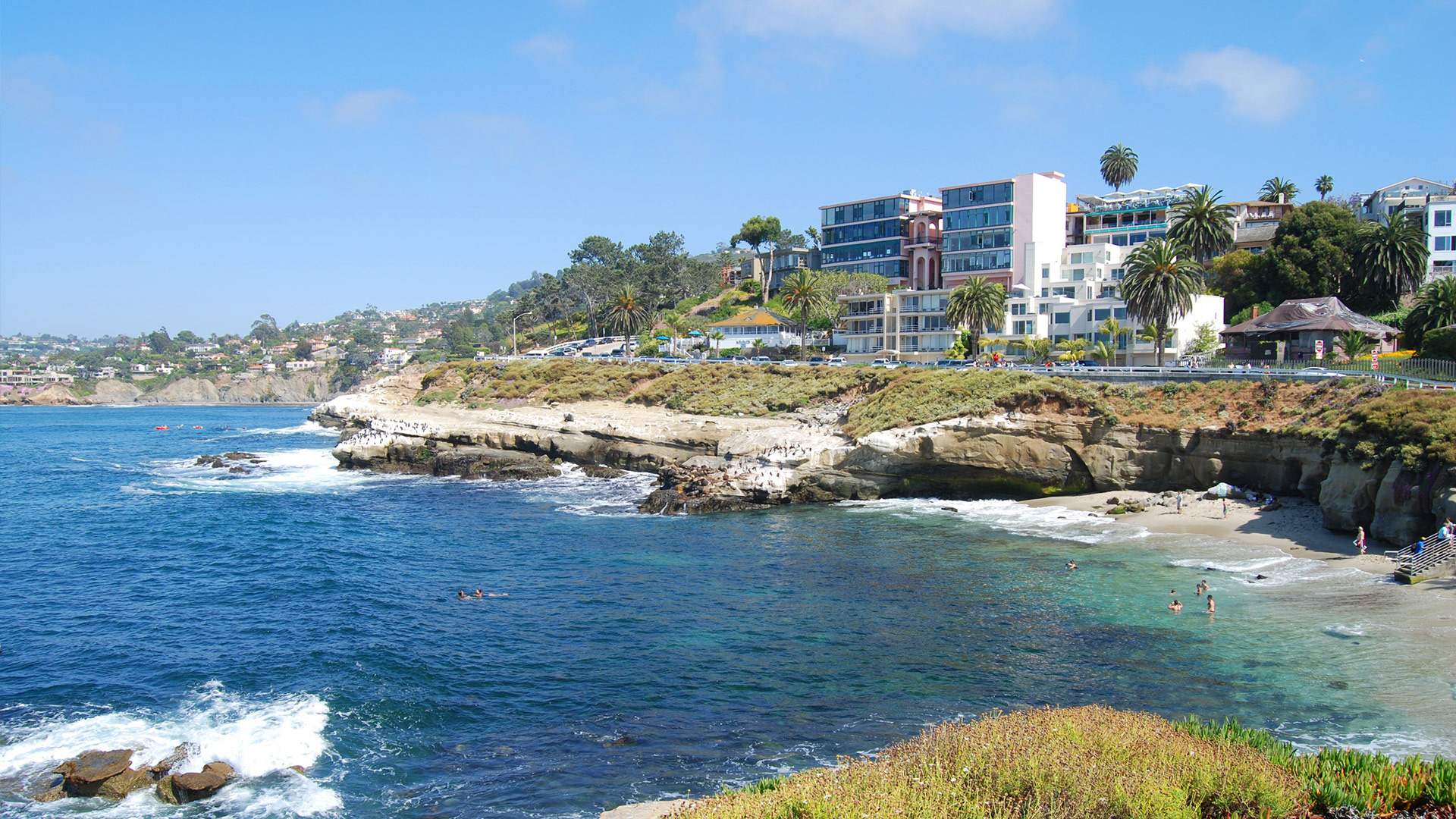 Register using the link below:
2017 Annual Meeting Registration
---
The Masonry Society will hold its 2017 Annual Meeting and 40th Anniversary celebration in beautiful La Jolla, California on November 3 – 7. This meeting will feature committee meetings, technical sessions, and plenty of social activities.
Come celebrate our ruby anniversary with us! We will share highlights and stories from our 40 years as a Society at a very special Awards Luncheon on Saturday, November 4th. A commemorative edition of the Awards Lunch program will be given to all attendees. If you are interested in placing an ad in the program or wish to sponsor this momentous occasion, please contact TMS Staff at tmsmeetings@masonrysociety.org.
Meeting Information
---
 Presentations at the Meeting
---

The Masonry Society's 2017 Annual Meeting is filled with numerous educational opportunities in addition to our Committee (Business) Meetings, Member/Guest Reception, Awards Luncheon, and social events. The following topics will presented during the General Sessions on Saturday, November 4, 2017. These presentations are typically 20 minutes in length and provide informative background on a variety of design, construction, and evaluation topics related to masonry. Certificates of Continuing Education are available to those attending.

---
TMS Turns 40! – A Brief History of The Masonry Society, Presented by Daniel Abrams
Honorary Member and Past President Daniel Abrams will reflect back on the early beginnings, struggles and achievements of The Masonry Society. Come hear this interesting and entertaining history of OUR Society from one of our honored members.
The History of Structural Masonry Standards Development, Presented by John Tawresey
Have you even wondered why TMS 402 is 402 and not 401, or simply 1? Are you confused as to why the masonry standard is no longer ACI 530? John Tawresey, TMS Honorary Member, Past President, and Founding Member, will review the history of how TMS 402 came to be after an earlier TMS Standard (TMS 401), and the struggle to first create a joint committee and then to have the standard solely developed by TMS.
ASCE 7-16 Changes and Impacts on Masonry Design, Presented by Ronald Hamburger
The 2016 edition of ASCE 7, Minimum Design Loads and Associated Criteria for Buildings and Other Structures includes a number of important revisions including the introduction of new hazard maps for atmospheric icing, snow, seismic and wind loading, improved Rain Loading provisions, a complete rewrite of Chapter 16 on nonlinear seismic analysis, a new Chapter on Tsunami-resistant design, as well as many other changes. These provisions will serve as the basis for design loads in the 2018 International Building Code and will affect the design loads on masonry buildings. Ronald O. Hamburger, S.E., Senior Principal at Simpson Gumpertz & Heger, who served as Chair of ASCE 7-16, will summarize the most important changes to ASCE 7-16 and will note changes that will affect the design of masonry structures. Time permitting, he will also note how these changes will be incorporated into IBC Chapter 16.
The 2018 I-Codes – Changes That Will Affect Masonry, Presented by Jason Thompson
The 2018 Editions of the International Codes which include the International Building Code (IBC), International Residential Code (IRC), International Existing Building Code (IEBC), International Energy Code, and other model codes will soon be released and will start to be adopted in various locations in the coming months. Jason Thompson, Vice President at the national Concrete Masonry Association and Chairman of the Masonry Alliance for Codes and Standards will provide an update on major changes to expect related to masonry design, construction and repair.
Evaluating the Energy Impacts of Concrete Masonry Wall Constructions in the Pacific Northwest, Presented by Thomas Young
Concrete masonry walls are often selected for their durability and impact resistance. As energy codes become more stringent, additional insulation is required to show prescriptive code compliance, increasing first costs and reducing the durability of the wall. A study was conducted to evaluate the impacts of wall constructions with high thermal mass in ASHRAE climate zone 4C as it relates to design performance, code compliance, and life cycle cost effectiveness.
The life cycle cost results suggest that prescriptive code compliance for mass walls is not adequate for optimizing owner investment. Design teams may find that improving building HVAC or lighting systems may be more cost effective than adapting mass walls to comply with prescriptive code requirements.
Analysis of Masonry Shear Walls Using Strut-and-Ties Models, Presented by Patrick B. Dillon & Fernando S. Fonseca
Mechanical models provide a good combination of efficiency, reliability, and practicality for most masonry analysis and design scenarios. The use of stress fields, which are based on the lower-bound theorem of the theory of plasticity, has been shown to be efficient and reliable. Stress fields have been combined with the truss analogy to produce what is known as the strut-and-tie modeling procedure. This method makes it easy to visualize complicated stress paths and enables designers of reinforced quasi-brittle materials to optimize the amount and location of the reinforcement. Strut-and-tie modeling can be a practical tool for designing masonry structures, but unfortunately, there are no guiding principles for implementing the method in masonry design. This presentation will introduce ongoing research to develop strut-and-tie modeling procedures for masonry.
Self-Consolidating Grout Research, Presented by Craig Baltimore
Self-consolidating grout that does not rely on chemical admixtures and simultaneously include a high percenta replacement of Portland cement (a sustainable feature) have the potential for a robust solution. Research to date shows potential under laboratory conditions. This presentation reports on the continued research of repeatability of grout strength (cube compression testing at 28, 56, 100 days) and initial testing protocol under commercial conditions.
3D Visualization Tools for Documenting Masonry, Presented by Michael Schuller
Photogrammetry and laser scanning methods can capture surface conditions in great detail, and recent improvements in both hardware and computing power are bringing the methods into mainstream usage. Surface models developed using the techniques are used for documenting and visualizing conditions, as input into modeling software, and to provide models for stone fabricators tasked with carving replacement pieces. The presentation will provide an overview of photogrammetry and laser scanning methods illustrated with examples from projects, along with recommendations for capturing data to properly develop accurate models.
Recent Collapses of Historic Masonry Structures, Presented by Craig M. Bennett, Jr.
The city of Charleston, South Carolina is filled with historic structures, the majority of them masonry. Unfortunately, the city has seen headline-grabbing partial structural collapses of several historic structures recently, and we have found ourselves called in, after the fact, on failures of least six historic masonry buildings in Charleston alone and several others around the southeast. In this talk, Bennett examines the factors common to these failures and makes recommendations on ways in which owners of historic masonry structures can significantly reduce the likelihood of a very serious structural problem.
Adhered Masonry Veneer Systems: Old Problems and New Challenges, Presented by Robert C. Haukohl
Adhered masonry veneer systems have continued to evolve since becoming popular in the 1950's, with standards and installation guides trailing but eventually catching up. Now, energy codes and drainage plane requirements present new challenges for designers and installers, with old (yet still very relevant) concerns about durability and construction practices continuing to haunt the industry. This presentation will cover the basics about adhered masonry veneer, its comparative advantages and disadvantages, and ways in which the industry is trying to cope with old problems and new challenges.
The Genealogy of Masonry Facade Repairs: The Next Generation, Presented by Edward Gerns & Rachel Will
The majority of historic masonry high-rise buildings were constructed between 1890 and 1930. Over the decades the approach for maintenance and repair had changed. In the 1950s many of these buildings were raised or the facades were modified to remove fall hazards. Beginning in the 1980s and continuing today, many cities have adopted code mandated inspection programs for building facades. Since the inspections were to be performed by architects and engineers, design professionals were becoming more involved in the repair and maintenance process. New issues have begun to develop in the past five years. The conditions now being address in many ways is much more concerning for design professionals than previous decades. Specifically, distress is often related to improper previous maintenance and/or concealed distress that is to date not detectable until failure occurs.
This presentation will provide an overview of the repair and evolution of the repair of historic masonry high-rise buildings with specific examples of the distress being encountered by the authors on buildings that have been maintained or exhibit little or no indications of potential deficiencies.
Post-Installed Masonry Veneer Anchors, Presented by Bryan Rouse & Rachel Will
There are numerous situations where post-installed masonry veneer anchors are needed. Many applications present straightforward conditions that anchor manufacturers have anticipated and have test data to support the designer's decisions regarding retro-fitting the veneer's lateral restraint system. However, there are times when the as-built wall system presents unique circumstances that cannot be dealt with in a traditional manor or where not test data exists for evaluating the potential use of available post-installed anchors. The presentation will focus on case studies of unique conditions where in-situ testing and evaluation was necessary to validate the anchor performance before the project proceeded. It will also address the decision-making process in assessing the appropriate anchor(s) for a given situation.
Nonlinear Analysis of Reinforced Masonry Shear Walls with ASCE 41, Presented by P. Benson Shing
ASCE 41 provides guidelines for assessing the seismic performance of masonry structures using nonlinear analysis. However, the backbones curves provided to describe the nonlinear behavior of reinforced masonry shear walls were based on limited experimental data. A study was recently conducted under the ATC 114 project to examine available experimental data, evaluate the adequacy of these backbone curves, and develop improved guidelines and nonlinear models for the performance assessment of reinforced masonry wall structures. Both flexure-dominated and shear-dominated wall components were considered. The study has shown that the backbone curves recommended in current guidelines significantly under-estimate the deformation capability of reinforced masonry shear walls. A rational modeling method has been proposed in the study for flexure-dominated walls. The method has been validated by experimental data, and used to generate improved backbone curves for fully-grouted rectangular wall sections. Based on experimental data, improved backbone curves have been developed for shear-dominated walls. This presentation will provide a summary of that study and the proposed analysis methods.
---
La Jolla, California
La Jolla, also known as the Western Riviera, is the jewel of Southern California. La Jolla sparkles in vacation sunshine year-round. La Jolla's grandeur is nowhere more evident than along its coastline, where you'll find some of the most breathtaking beaches in California. Dramatic cliffs, sandy expanses and secluded coves, La Jolla offers a range of beaches to please everyone—whether your interest is sunbathing, swimming, surfing… or seals! La Jolla is only a few minutes from beautiful downtown San Diego.
---
Hotel Accommodations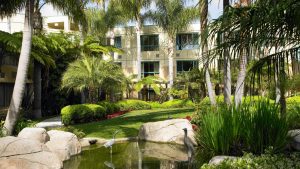 The 2017 Annual Meeting will be held at the Sheraton La Jolla Hotel, 3299 Holiday Court, La Jolla, CA 92037. Room reservations can be made by calling (888) 627-8445 or you can register online. Rooms under TMS's special group rate of $155 per night are mostly sold out.  The group rate closes October 11, 2017. Guest Rooms are not included in the meeting registration fee.
Additional hotel rooms are available at the Residence Inn (1/3 mile, <10 min walking distance) from the Sheraton La Jolla.
---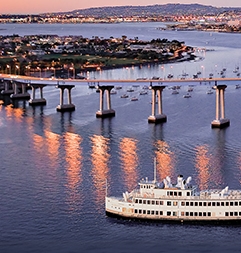 Full Moon Dinner Cruise
Saturday, November 4th – 6:00 – 10:15 PM
Experience a magical, unforgettable evening cruising San Diego Bay from the comfort of a spacious yacht under the full moon with your TMS friends. You will be greeted upon boarding with a glass of chilled champagne. A delicious three-course gourmet dinner will be served at your table, made on board from local, seasonal ingredients and served by award-winning stewards. After dinner, head up for a spin on the dance floor or stroll the decks under the stars and the full moon.  Enjoy breathtaking views of San Diego's most famous sights, including the Coronado Bay Bridge, the Star of India, the North Island Naval station, and the USS Midway aircraft carrier. Meet in the Hotel lobby at 6PM to board our chartered bus.
Attendees Receive:
• Round trip transportation between the Hotel and Grape Street Pier on a Deluxe Chartered Bus
3-hour Cruise Aboard a Yacht on San Diego Bay
• Private Tables for TMS Guests
• Boarding Glass of Chilled Champagne or Sparkling Cider
• Choice of 4 entrees from the 3-course Dinner Menu; prepared fresh onboard the ship (Meal choice(s) must be submitted at time of purchase. Vegetarian and Gluten-free options available by request.)
• Complimentary Coffee &Tea
• Full Cash Bar
• A Professional DJ for Music and Dancing
• Views of San Diego that Change with the Courses
• FREE Wi-fi so you can post your photos while you cruise!
Tickets must be purchased no later than October 20, 2017 at 5 pm ET. No on site purchases will be available.
---
Sponsors

---
Sponsorship opportunities and minor exhibition space are available for the 2017 Annual Meeting. If you would like to sponsor the meeting you can do so by purchasing a sponsorship through the eStore or calling the TMS office at (303) 939-9700. If you are interested in hosting an exhibition at the meeting email Susan Scheurer at tmsmeetings@masonrysociety.org.