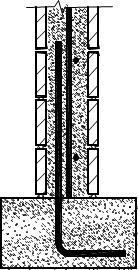 The Masonry Society is offering a Webinar on Lap Splice and Confined Lap requirements on  September 10th at 1 PM ET, which will be presented by Ed Huston, P.E., S.E.
Most designers who engineer reinforced masonry know that code provisions for lap splice lengths have been evolving over the past few code editions. A newer confinement-steel option is available that has the potential to significantly reduce the lap splice lengths, especially for larger diameter bars, through confinement of the structural reinforcement. Join Ed Huston for an overview of this newer option based on the 2016 TMS 402 lap spice provisions.
---
This webinar will provide 1 hour of AIA Learning Units and quantity discounts are available for companies wishing to have several employees receive credit.
---
Ed Huston, PE, SE, is a licensed civil and structural engineer in Washington, and is licensed in seven other states. He is a principal in the firm of Huston Structural Engineering in Seattle, Washington. Ed has over 40 years of experience in structural design, evaluation, investigation and code and standards development. Ed is a Former President of the Board of Directors of NCSEA. He is chair of the Code Advisory Committee – General Requirements Subcommittee.
Ed is a Fellow of The Masonry Society and has served on the TMS board of directors as board member and treasurer. Ed serves on the Main Committee, the Design Subcommittee and the Seismic Subcommittee of the TMS-402/602 Standards Committee. TMS presented the Haller Award to him. Ed is a co-author of The Masonry Designers' Guide to the ACI/ASCE 530 Code, First through 2016 Editions. He has made over 300 seminar and technical presentations.