At TMS's 2015 Annual Meeting Awards Luncheon, Darrell McMillian , Vice President of TMS, presented the Society Service Award to Russ Peterson, Principle at Ensoltech.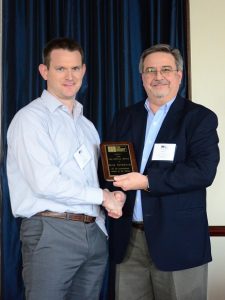 A member for a number of years, Russ Peterson  has been increasingly active in recent years, offering a software seminar a few years ago and developing software on the Direct Design Handbook. He was chosen to receive the Service Award for his exceptional work on the Masonry Designers' Guide, 2013 under very difficult circumstances.  Unexpectedly loosing the Team Leader for the TMS Shopping Center example problems, Russ not only took over  the team leadership, but he led the team in considering, responding to, and making revisions to the examples based on numerous TAC comments. The MDG 2013 could not have been completed without Russ, and it is better and more practical because of him.
In the coming years, Russ has volunteered to assist with the next edition of the Direct Design Handbook (TMS 403) and develop new software to assist users of the Handbook to more easily design regular masonry structures.
The Masonry Society started the Service Award in 2006 to recognize individuals who volunteer in special, and typically unseen, ways. The intent of the award is to recognize those who continually assist the Society, but who are not normally recognized for their efforts.