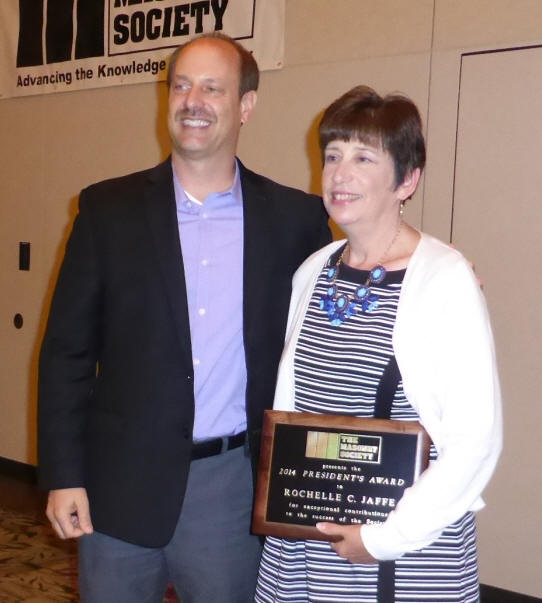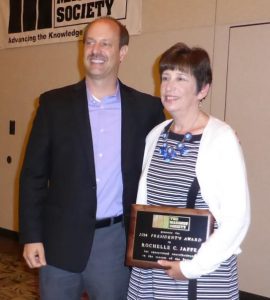 At The Masonry Society's 2014 Annual meeting in Scottsdale, Arizona, TMS President Scott Walkowicz presented the 2014 President's Award to Rochelle C. Jaffe.
In his address, Walkowicz thanked Jaffe for her tireless work on numerous TMS Committees and on a variety of TMS projects. He credited her technical expertise and tireless editorial reviews to bettering TMS standards and publications.
---
Rochelle C. Jaffe, Ar., S.E., CCS, SMI, FTMS is a licensed Architect, licensed Structural Engineer, certified construction specifier, and certified special inspector of structural masonry. Ms. Jaffe has nearly 30 years of experience in troubleshooting masonry design, observing masonry during construction, and evaluating existing buildings.
Ms. Jaffe is a nationally recognized expert in masonry, and has published numerous textbooks, magazine articles, and reports on the subjects of masonry design and construction. She was primary author of all editions of The Masonry Designers' Guide and a co-author the Direct Design Handbook for Masonry Structures. Ms. Jaffe was granted Fellow member status in The Masonry Society (TMS) as a result of providing more than 20 years of active service to that society. She is a member of the American Concrete Institute, ASTM (Committee C18 Dimension Stone), and design/construction committees with the Masonry Institute of Michigan. She has also been an active member of the Masonry Standards Joint Committee (author of Building Code Requirements for Structural Masonry and Specification for Structural Masonry, which are adopted by reference into the International Building Code) for every edition of that document since 1992.