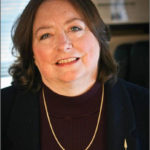 TMS President Russ Brown presented the 2012 President's Award to Diane B. Throop, Director of Engineering for the International Masonry Institute (IMI), at the TMS Awards Luncheon on September 15th in Greenville, South Carolina.  During the presentation of the Award, Brown praised Throop's leadership as Chair of the Masonry Standards Joint Committee, noting the excellent work the Committee is getting done under her guidance. He noted that the Committee has been forced into a shortened revision cycle, and despite this, the Committee has considered a number of major issues which should make the Code easier to use, while also being technically enhanced. In addition, he thanked her for the excellent reformat of the 2011 provisions in a "Code/Commentary" format, making it much easier to use the provisions by having the Commentary adjacent to the applicable Code provisions.
Brown also highlighted Throop's exceptional work outside of TMS as well including:
Past Chair of ASTM Committee C15 – Manufactured Masonry Units
Past Chairman of ASTM C12.03 – Specifications for Masonry Mortars. Co-chair of the ASTM Tenth symposium on Masonry.
Recognized in June 2004 with an Award of Merit from ASTM for work on the masonry committees. The Award is the highest recognition from the Society and carries the title of Fellow.
Because of her tremendous leadership skills and her many accomplishments, Throop was made a Fellow of TMS in  2009. Brown also noted that as Director of Engineering for the International Masonry Institute (IMI), Throop has lead and supported numerous industry programs, and he thanked her efforts.
---