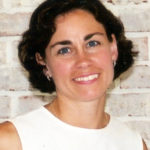 TMS President John Chrysler presented the 2011 President's Award to Christine Subasic at the TMS Awards Luncheon on November 12th in San Antonio, Texas.  During the presentation of the Award, Chrysler praised Subasic's leadership and support as TMS's Chair of the Administrative Committee Team, noting her willingness to step up and lead this important Committee for TMS. During her term as ACT chair, she has added new ideas and insight to Executive Committee and Board discussions, has supported the Society and staff, and has reorganized the Administrative Committees to increase their effectiveness while reducing duplication of duties.
---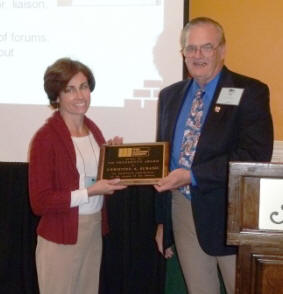 Subasic serves on numerous TMS Committees, including the Sustainability Committee, Architectural Practices Committee, Design Practices Committee, and the newly formed Cast Stone Committee. She also serves as a Corresponding Member of the Masonry Standards Joint Committee's Form and Style Subcommittee and Veneer, Glass Unit Masonry, and Empirical Design Subcommittee. She is an author and reviewer of the Masonry Designers Guide, and she has helped lead TMS's Sustainability efforts and is Editor for the popular TMS Sustainability E-Newsletter. She was a primary investigator after Hurricane Opal and has lent her knowledge and experience to a number of TMS projects.
---
Subasic is owner of C. Callista Subasic in Raleigh, North Carolina.