At TMS's 2010 Annual Meeting Awards Luncheon, TMS Vice President, Dr. Russel H. Brown, who chairs TMS's Awards Committee, presented three Society's  Service Awards to Andy Dalrymple, James Farny and Thomas Samblanet. The Masonry Society started this award in 2006 to recognize individuals who volunteer in special, and typically unseen, ways. The intent of the award is to recognize those who continually assist the Society, but who are not normally recognized for their efforts.
---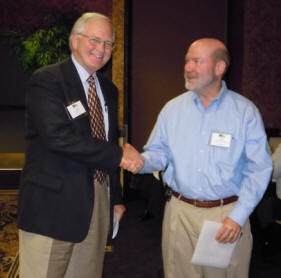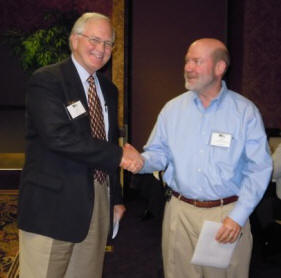 Anyone who has been involved in the development of the 2011 MSJC will understand all the reasons that Andy Dalrymple received a Service Award. As the MSJC 2011 Main Committee Secretary he has done an amazing job. He has dealt with a new ballot portal system, new committee ballot forms and his ballot tracking system has kept the Committee on track and organized throughout this cycle.
The Nominator for the Award noted "I have never had him say he couldn't do something or complain about the workload which is massive." He truly exemplifies volunteer service to The Masonry Society providing excellent work, without fan fare and in an incredibly professional manner.
---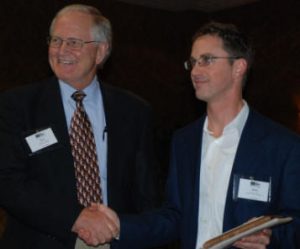 Jamie Farny is a tremendous supporter of TMS, who helps out consistently, and with enthusiasm. While many know Jamie as a fellow committee member, and as a Chairman for the Certification Committee, he was nominated for the Service Award for his recent assistance to TMS staff in 3 main areas.
Jamie often helps TMS Staff answer technical calls regarding cement, mortar, and grout, which is a great service as he does this professionally, quickly, and politely. He also was nominated as he recently stepped forward to complete a Chapter of the Masonry Designer's Guide when the author was unable to do so. Finally, he was recognized for his considerable support the 2009 Annual Meeting where he assisted with shipping, local contacts, and on-site assistance.
---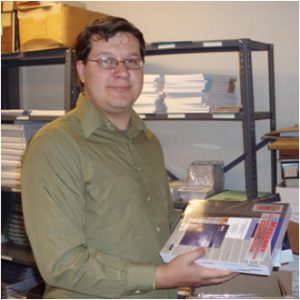 Thomas Samblanet was recognized with a 2010 Service Award for his volunteer service to TMS. While Thomas was formerly a part-time employee of TMS, in recent years, he has been helping TMS as a volunteer to ease the burdens on TMS staff and to provide something back to TMS.
Thomas has voluntarily scanned in hundreds of papers for TMS's On-line Database of Journal/NAMC Proceeding Papers, has assisted with layout of publications including the MDG-6, and has provided free consultation on website issues and graphic design. Thomas also routinely helps the office move cartons of books and publications from offsite storage to office storage, and has also assisted at TMS meetings. His voluntary service to TMS has eased burdens on Staff while helping the Society meet its goals.