At TMS's 2007 Annual Meeting Awards Luncheon on November 10th, TMS Vice President, John Chrysler, who chairs TMS's Awards Committee, presented three Society's  Service Awards to Mrs. Linda Miller, Dr. William A. Wood, and Dr. Terence A. Weigel. The Masonry Society started this award last year to recognize individuals who volunteer in special, and typically unseen, ways. The intent of the award is to recognize those who continually assist the Society, but who are not normally recognized for their efforts.
---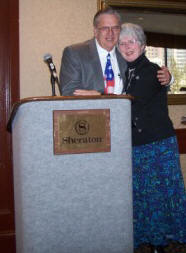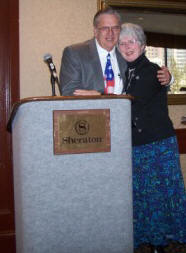 Linda Miller, spouse of Ray Miller, has been assisting TMS staff and the Society behind the scenes routinely for over 8 years by leading spouse programs, tours, and social events. She has been an integral part of planning several meetings, including the Portland, Oregon Annual Meeting and the 2005 University Professors Masonry Workshop. Her assistance with leading tours and social events frees staff to focus on the business meetings.
In addition, her friendliness has encouraged spouses and members to attend TMS events. She has also helped TMS with financial reviews in past years when her husband served as TMS Treasurer, and she has routinely assisted TMS staff registering people at meetings and events. Because of her wonderful assistance to the Society, Linda received a 2007 TMS Service Award.
---
Terry Weigel has volunteered countless hours to TMS as a leader (past chair of the Design Practices Committee and Electronic Communications Committee and current member of the Board of Directors), helper (member of TAC, MSJC, and numerous other committees and Task Groups), and supporter (donor to Noland and Endowment Funds, General Fund, etc.).
This year, he was especially deserving of a TMS Service Award because he assisted the Society by serving as host of the 2007 University Professors' Masonry Workshop where he helped coordinate the workshop and present several topics to attendees and because he assisted on several other major projects including the MDG-5 and the completion of the Sound Transmission Class Rating Standard. He is always willing to help TMS, and he has routinely agreed to present masonry topics at the Annual Meeting, substitute as chairman for committee meetings with little notice, review papers for the NAMC and other forums, and serve as a speaker for TMS in various seminar series. This year, Terry also served as the primary author on a paper and presentation on the MDG-5 at the 10NAMC to help expose this important new resource.
---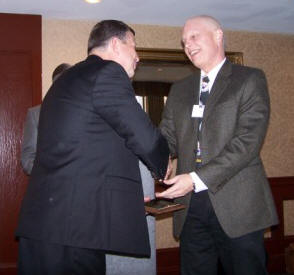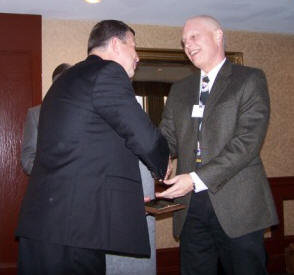 Bill Wood, is a true gentleman and volunteer, who has served TMS for years, and does so with no expectation of recognition for his outstanding efforts. Even while recovering from cancer treatments these past few years, Bill has continued to give to TMS; serving as chairman of the Design Practices Committee, primary author of the MDG-5 DPC Box Building, and developer and reviewer of TMS's Special Inspection Program.
Bill serves on numerous TMS committees (Architectural Practices Committee, Construction Practices Committee, Research Committee, past Board Member, etc.) – and when he does, he contributes! This year, besides helping on the MDG-5, serving as chair of the DPC committee, and assisting on the Direct Design draft and the Special Inspector's Program, Bill also found the time to help coordinate the Annual Meeting program.